Lockheed Martin lands commercial Atlas 5 contract
BY STEPHEN CLARK
SPACEFLIGHT NOW
Posted: September 9, 2013


A communications satellite for the Mexican government will launch on an Atlas 5 rocket from Florida in 2015, a rare win for the workhorse booster in the commercial launch market dominated by rockets from Europe, Russia and newcomer SpaceX.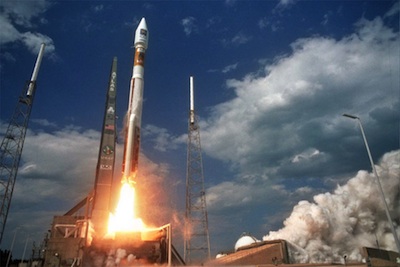 File photo of an Atlas 5 rocket launch in 2008 using the 421 configuration with a four-meter fairing, two solid rocket boosters and a single-engine Centaur upper stage. The same Atlas 5 version will be employed on the launch of the Morelos 3 satellite. Credit: Pat Corkery/United Launch Alliance

The Morelos 3 communications satellite, owned by the Mexican Ministry of Communications and Transportation, will launch on an Atlas 5 rocket from Cape Canaveral Air Force Station, Fla., according to Lockheed Martin Commercial Launch Services.
Officials can tailor an Atlas 5 rocket to meet the demands of each mission by adding solid rocket boosters, a larger payload shroud and a second engine for the launcher's Centaur upper stage.
Joan Underwood, a Lockheed Martin spokesperson, said the Morelos 3 mission would use the rocket's 421 configuration, with a four-meter payload fairing, two solid rocket boosters, and a single RL10 engine on the Centaur stage.
Underwood declined to disclose the financial value of the Morelos 3 launch contract.
Atlas 5 rockets regularly loft payloads for the U.S. military and NASA, but it has not launched a commercial communications satellite since November 2009. Morelos 3 is owned by the Mexican government, but the launch is considered a commercial win for Lockheed Martin.
Lockheed Martin's launch services division oversees commercial sales of the Atlas 5 rocket. United Launch Alliance, a partnership between Lockheed Martin Corp. and Boeing Co., builds and operates the Atlas 5 launcher.
"We are extremely pleased to be selected for this vital mission that will provide the government of Mexico with world-class Atlas launch services for the Morelos 3 satellite, supporting the nation's growing satellite communications needs," said Robert Cleave, president of Lockheed Martin Commercial Launch Services.
The Morelos 3 launch contract gives Lockheed Martin Commercial Launch Services three firm missions in its Atlas 5 backlog.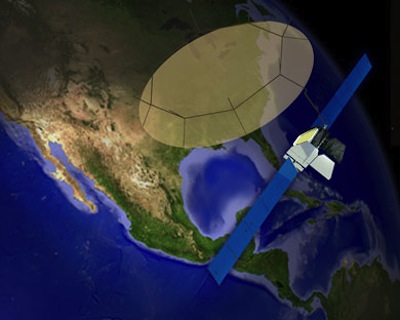 Artist's concept of the Morelos 3 satellite. Credit: Boeing

Lockheed Martin has contracts with DigitalGlobe to launch the WorldView 3 and GeoEye 2 commercial Earth observation satellites in 2014 and 2016, Underwood said. The WorldView and GeoEye 2 launches will originate from Vandenberg Air Force Base, Calif.
The Morelos 3 satellite, also known as Mexsat 2, is under construction at a Boeing factory in El Segundo, Calif.
With a launch mass of approximately 5,400 kilograms, or 11,905 pounds, Morelos 3 is one of three satellites ordered by Mexico from Boeing in late 2010. One of the satellites, built by subcontractor Orbital Sciences Corp., launched on an Ariane 5 rocket in December. Another Mexsat satellite is booked to launch on an International Launch Services Proton booster in 2014.
The Mexsat satellites will expand mobile telecommunications services in Mexico's rural regions and provide secure communications links to support Mexican law enforcement and military personnel with voice, data, video and Internet coverage.
Morelos 3 will be positioned in geostationary orbit over the equator at 116.8 degrees west longitude for a 15-year service life.