India's first navigation satellite launched by PSLV
BY STEPHEN CLARK
SPACEFLIGHT NOW
Posted: July 1, 2013


India's first navigation satellite launched Monday aboard a Polar Satellite Launch Vehicle, beginning a program to provide autonomous positioning services for users over Indian territory.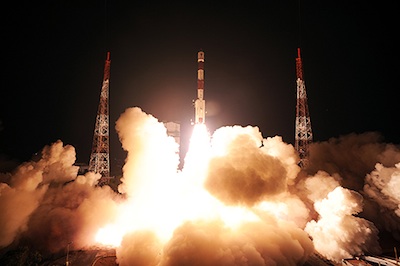 The Polar Satellite Launch Vehicle lifted off at 1811 GMT (2:11 p.m. EDT). Credit: ISRO

At least six more navigation spacecraft will launch through 2015 to form the Indian Regional Navigation Satellite System, which aims to provide navigation services with an accuracy of less than 20 meters, or about 65 feet, independent of U.S. and Russian satellites.
The IRNSS 1A satellite lifted off at 1811 GMT (2:11 p.m. EDT) from the Satish Dhawan Space Center on India's east coast, where it was 11:41 p.m. local time.
The 144-foot-tall Polar Satellite Launch Vehicle, boosted by a first stage and six strap-on motors, raced into the sky and flew east from the space center, reaching orbit about 20 minutes after liftoff, before deploying the 3,141-pound satellite in space.
"I'm extremely happy to announce that we had another excellent launch of our PSLV vehicle, " said K. Radhakrishnan, chairman of the Indian Space Research Organization. "This is the 23rd successive successful flight of PSLV, and the fourth successful flight of the extended version."
The PSLV placed the spacecraft in an orbit with a low point of 175 miles, a high point of 12,816 miles, and an inclination of about 17.9 degrees. Those parameters are very close to prelaunch predictions.
"This only proves that PSLV is an extremely reliable vehicle, and with this flight, we are also entering into a new era of space application in the country - that is the beginning of the satellite navigation program," Radhakrishnan said in a speech after the launch.
Officials announced the IRNSS 1A satellite extended its power-generating solar panels. The craft will fire its on-board engine several times over the next five days to circularize its orbit an altitude of 22,300 miles, entering a geosynchronous orbit inclined 29 degrees to the equator.
"Now that the baby is up in space, the satellite team has to ensure that it gets in the right geosynchronous orbit, then we have our job cut out to ensure that the payload operations are going on smoothly," said A.S. Kiran Kumar, director of the Space Applications Center in Ahmedabad, India.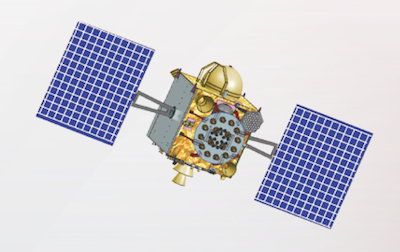 Artist's concept of the IRNSS 1A satellite. Credit: ISRO

IRNSS 1A is designed for a 10-year lifetime, and India is building six additional satellites to expand the regional navigation service before the fleet is completed in 2015 or 2016, according to ISRO.
The program's positioning services will reach users in India and surrounding regions extending about 900 miles from the Indian mainland. IRNSS services will be freely available to the public, but some capabilities will be restricted to government users, officials said.
"The key features for this is it has to provide a time which is extremely accurate," Kiran Kumar said. "Because of this extremely accurate time, which is downlinked from the satellite, we'll be able to locate ourselves accurately."
IRNSS 1A carries L-band and S-band navigation payloads and a rubidium atomic clock to keep time. A C-band transponder and laser reflectors will help engineers determine the distance to the satellite in orbit, a requirement for precise navigation services.
Four IRNSS satellites will operate in inclined geosynchronous orbits like IRNSS 1A, while three spacecraft will launch into geostationary orbit over the equator.
Indian officials say the independent navigation service will aid marine traffic, emergency response officials, vehicle tracking applications, mobile communications, mapping, and civilian drivers.