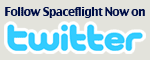 NewsAlert





Sign up for our NewsAlert service and have the latest space news e-mailed direct to your desktop.


Privacy note: your e-mail address will not be used for any other purpose.










NASA's GALEX mission concludes after a decade
BY SPACEFLIGHT NOW
Posted: July 1, 2013


NASA's Galaxy Evolution Explorer, a diminutive satellite launched 10 years ago with the monumental goal of mapping the history of star formation in a million galaxies, completed its mission and was turned off last week.

An artist's concept of GALEX deployed in orbit. Credit: NASA



"GALEX is a remarkable accomplishment," said Jeff Hayes, NASA's GALEX program executive in Washington. "This small Explorer mission has mapped and studied galaxies in the ultraviolet, light we cannot see with our own eyes, across most of the sky."

At 3:09 p.m. EDT Friday, June 28, controllers at Orbital Sciences in Dulles, Va., sent the signal to decommission GALEX. The spacecraft will remain in orbit for at least 65 years, then fall to Earth and burn up re-entering the atmosphere.

GALEX met its prime objectives and saw its mission was extended three times before NASA decided to end it.

Highlights from the mission's decade of sky scans include:
The discovery of a gargantuan comet-like tail behind a speeding star called Mira.
Catching a black hole "red-handed" as it munched on a star.
Finding giant rings of new stars around old, dead galaxies.
Independently confirming the nature of dark energy.
The discovery of a missing link in galaxy evolution -- the teenage galaxies transitioning from young to old.
The mission also captured a dazzling collection of snapshots, showing everything from ghostly nebulas to a spiral galaxy with huge, spidery arms.

The satellite's original mission was 28 months long, but extensions kept it going a decade.

In a first-of-a-kind move for NASA, the agency in May 2012 loaned GALEX to Caltech, which used private funds to continue operating the satellite while NASA retained ownership.

Scientists used GALEX to study everything from stars in our own Milky Way galaxy to hundreds of thousands of galaxies 5 billion light-years away.

In the space telescope's last year, it scanned across large patches of sky, including the bustling, bright center of our Milky Way. The telescope spent time staring at some areas of the sky exploded stars, called supernovae, and monitoring how objects, such as the centers of active galaxies, change over time. GALEX also scanned the sky for massive, feeding black holes and shock waves from early supernova explosions.

Data from the last year of the mission will be made public in the coming year.

"GALEX, the mission, may be over, but its science discoveries will keep on going," said Kerry Erickson, the mission's project manager at NASA's Jet Propulsion Laboratory (JPL) in Pasadena, Calif.