Russian imaging satellite in orbit after Soyuz launch
BY STEPHEN CLARK
SPACEFLIGHT NOW
Posted: June 25, 2013


Russia launched a civil remote sensing satellite aboard a Soyuz rocket Tuesday, lofting a spacecraft with a modernized high-resolution digital camera to collect imagery of Earth for Russian government agencies and international customers.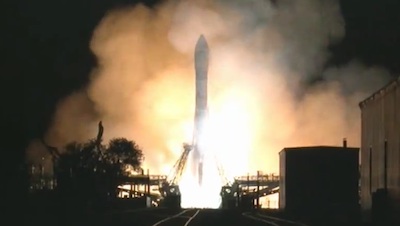 Liftoff of the Soyuz rocket with Resurs P1 occurred at 1728 GMT (1:28 p.m. EDT; 11:28 p.m. Baikonur time). Credit: TsENKI TV

The images will be used by emergency personnel, environmental scientists, urban planners and other officials, putting Russia in a league with commercial observation satellites owned by companies in the United States and Europe.
The Resurs P1 satellite blasted off at 1728 GMT (1:28 p.m. EDT) aboard a Soyuz rocket from the Baikonur Cosmodrome in Kazakhstan. The kerosene-fueled rocket, configured with upgraded digital avionics and third stage engine, disappeared into clouds soon after liftoff from Baikonur, where it was 11:28 p.m. local time.
The three-stage rocket shed its first stage strap-on boosters about two minutes into the mission, then accelerated into orbit nine minutes after liftoff, before deploying the 14,500-pound Resurs P1 satellite.
It was the first of two Soyuz launches scheduled for Tuesday. Another Soyuz booster was on the launch pad in French Guiana awaiting liftoff less than two hours later on a commercial launch with four broadband communications satellites for O3b Networks Ltd.
The Resurs P1 spacecraft is the first in a new generation of civil observation satellites developed by Russia. It replaces an aging craft launched in June 2006, adding fresh capacity and higher-resolution imaging capabilities to the Resurs program.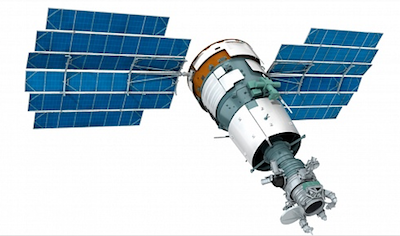 Artist's concept of the Resurs P1 satellite. Credit: TsSKB Progress

Resurs P1's users include the Russian government's ministries responsible for agriculture, the environment, emergency situations, fisheries, meteorology and cartography, according to information posted on the website of Roscosmos, the Russian space agency.
Roscosmos said the satellite will monitor natural resources - such as crops, forests and fishing zones - to ensure sustainable utilization of the environment. Officials could also use Resurs P1 to track natural disasters and assist in the response to floods, storms and other emergencies.
The satellites can also collect hyperspectral data, a feature which could allow scientists to see the affects of invasive insects on crops, according to Russia's Novosti news agency.
Resurs P1's camera, which can resolve objects on the ground smaller than 1 meter, or 3.3 feet, will be able to spot pollution, aid in urban planning, detect fields of illegal drugs, and track icebergs.
The craft will circle Earth in a sun-synchronous orbit about 295 miles high.
Designed for a five-year lifetime, Resurs P1 was built by TsSKB Progress of Samara, Russia. The same storied space company is prime contractor for Russia's legendary Soyuz rockets.