House bill threatens $1 billion in NASA funding cuts
BY WILLIAM HARWOOD
STORY WRITTEN FOR CBS NEWS "SPACE PLACE" & USED WITH PERMISSION
Posted: June 19, 2013


A draft NASA authorization bill floated by the House Science, Space and Technology Committee would eliminate funding for the Obama administration's proposed asteroid retrieval mission and cut overall agency spending by about $1 billion, lawmakers said Wednesday.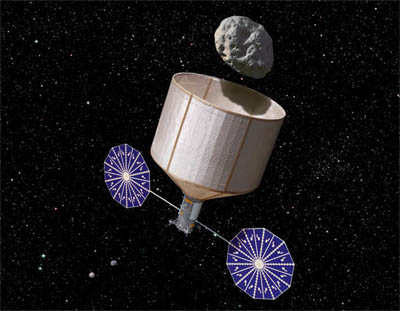 Illustration of an asteroid retrieval spacecraft in the process of capturing a 7-meter, 500-ton asteroid. Credit: Rick Sternbach / Keck Institute for Space Studies



The proposed $16.8 billion funding package would focus NASA's long-term efforts on Mars exploration, set pre-determined milestones for development of commercial manned spacecraft -- including a non-negotiable deadline for first flight -- and sharply cut funding for Earth sciences.

"This authorization bill reflects a sincere effort to maximize return to the taxpayer while working to protect America's role as the world leader in space exploration," Rep. Steven Palazzo, R-Miss., chairman of the Subcommittee on Space, said in opening remarks.

"It is realistic and reflective of the hard choices we must make as a nation and provides support for agreed-upon priorities. The stark reality is that if we fail to reform mandatory spending, discretionary funding for space, science and research will continue to shrink."

He said the proposed "authorization discussion draft" was consistent with the 2011 Budget Control Act, mandating automatic spending cuts -- sequestration -- in the absence of legislation to trim $1.2 trillion from the federal deficit.

Given the current budget environment, Palazzo said the Obama administration must focus on NASA's core programs, including the Space Launch System heavy-lift rocket, needed for missions to a variety of deep space targets; the Orion multi-purpose crew vehicle that would carry astronauts beyond the moon; space science; and the International Space Station.

The draft budget would authorize $1.77 billion for ongoing development of the SLS rocket and ground systems, $1.12 billion for the Orion capsule, $2.9 billion for space station operations and $4.62 billion for space science, including the costly James Webb Space Telescope.

Space science also includes Earth and planetary science. While the latter would receive $1.5 billion under the draft authorization, Earth science would suffer a $650 million cut, dropping to $1.2 billion.

The Obama administration's commercial manned space initiative would receive about $700 million under the draft authorization, more than $100 million less than what NASA Administrator Charles Bolden said was the minimum needed to reach an initial space station launch date in 2017.

Despite the proposed funding reduction, the draft authorization gives NASA a firm Dec. 31, 2017, deadline that "is not negotiable," Palazzo said.

"NASA must do whatever is necessary in its acquisition model to meet this deadline, even if that means radically altering their current plans," he said.

As for the administration's proposed mission to robotically capture a small asteroid and tow it back to the moon's vicinity for eventual manned visits, Palazzo said NASA had failed to provide a credible justification for the program or enough details to warrant funding.

"Because the mission appears to be a costly and complex distraction, this bill prohibits NASA from doing any work on the project, and we will work with appropriators to ensure the agency complies with this directive," he said.

At an industry briefing Tuesday to outline the objectives of the asteroid retrieval mission, NASA Deputy Administrator Lori Garver said the project would help identify asteroids that might threaten Earth, help scientists understand the origins of the solar system and drive technology development.

"This is the beginning of the debate," she said. "I think that we really, truly are going to be able to show the value of this mission."

But two witnesses at Wednesday's hearing -- Steven Squyres, principal investigator with NASA's Mars Exploration Rover program, and Thomas Young, a widely respected space industry veteran -- expressed skepticism, at least in the context of long-range plans to visit Mars.

"I personally don't see a strong connection between the proposed asteroid retrieval mission and sending humans to Mars," Squyres said. "But I believe NASA should at least be given the opportunity to try to make that case. I haven't heard it yet."

Said Young: "My belief is, any technology that comes out of it, there are better ways to do it. ... In my judgment, this is not a highest-priority endeavor."

Both men said they believed a long-range roadmap focused on eventual manned flights to Mars was the best course for NASA, but they strongly urged Congress and the White House to resist the temptation to set milestones and technical objectives, leaving that to NASA's scientists and engineers.

And they both said Congress should not set goals that cannot be met in a realistic budget environment.

Rep. Bill Posey, R-Fla., asked both men how long it might take to mount a manned mission to Mars with NASA's current budget.

"With the current budget, bear with me, I would probably say never," Young said.

Squyres agreed.

In her opening remarks, Rep. Donna Edwards, D-Maryland, complained that the draft legislation would "slash NASA's budget by almost a billion dollars relative to both the president's proposal for fiscal year '14 and the pre-sequester funding approved by Congress in fiscal year '12."

"The severe cuts to NASA's top line are manifested through out the draft bill," she said. "Earth science would be cut by almost $650 million relative to the fiscal year 2014 request, meaning the Earth science account is cut by one third."

If implemented, she said, the cuts to NASA's Earth science program "would not only result in gaps in the data needed to understand our Earth system, it would also impact the data needed for water monitoring, forest and timber productivity forecasting, improving gas and electric utilities forecasting and assessing the impact of sea levels rising in coastal communities."

In the manned space arena, she said, imposing strict timetables for development of manned spacecraft could result in the same sort of "schedule pressure" blamed for the Challenger and Columbia disasters.

"The bill establishes aggressive milestones and activities that run contrary to proposed downsized levels without any real regard for safety and schedule," she said. "These are exactly the pressures, from the lessons we learned from both Challenger and Columbia. We can't afford to repeat those tragedies."

Rep. Eddie Bernice Johnson, D-Texas, said the bill would put NASA on a "path to mediocrity."

"This is not a bill ready for markup," she said. "This is a flawed draft, starting from its funding assumptions, and I cannot support it in the present form. I also predict that if passed by the committee, this bill would be DOA in the Senate. DOA meaning 'dead on a arrival.'"