Ariane 5 rocket upgrades could be accelerated
BY STEPHEN CLARK
SPACEFLIGHT NOW
Posted: June 16, 2013


PARIS -- Arianespace's new leader is pushing to accelerate modifications to the Ariane 5 rocket to match a trend toward larger communications satellites equipped with electric propulsion systems, company leaders said.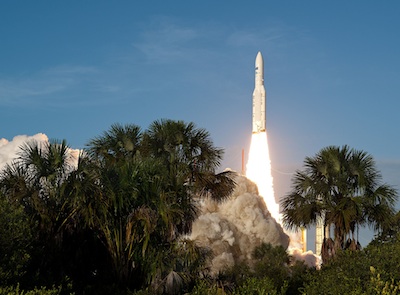 File photo of an Ariane 5 rocket launch. Credit: Arianespace/CNES/ESA

The European launch provider says the Ariane 5's payload accommodations should be adapted to carry satellites with more volume. Future communications spacecraft that replace conventional chemical rocket thrusters with electric propulsion, such as a new Boeing satellite platform, will need more room inside launch vehicles, according to Louis Laurent, Arianespace's vice president of programs.
"The analysis is that for both the new electric propulsion satellites which are going to arrive - as well as the classic big satellites - on both of them there are trends to require more volume," said Stephane Israel, Arianespace's chairman and CEO.
Arianespace pairs two communications satellites - generally with a mass of about 6 metric tons and 3.5 metric tons - for launch on each Ariane 5 mission. The Ariane 5's barrel-shaped Sylda dual-payload adapter sits inside the launcher's 17.7-foot-diameter nose cone, serving as an attachment point for the upper payload and surrounding the Ariane 5's lower passenger until deployment in orbit.
"We have two satellites [on each flight ] - a small one and a big one - and if the analysis is correct, we think both of them can be bigger," Israel said. "That is not to say all of them will be bigger. We do not say that all satellites will require electric propulsion, for instance, but we want to have the flexibility under the fairing. The research shows that if we have a little more volume, it will be a positive thing."
The push for a "limited adaptation" of the Ariane 5 rocket's payload fairing is Israel's first major initiative since taking over the top job at Arianespace in April.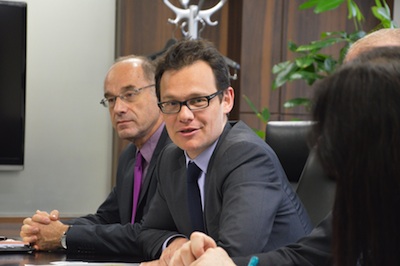 Arianespace chairman and CEO Stephane Israel. Credit: Arianespace

Arianespace operates and markets the Ariane 5 rocket. The Ariane 5's prime contractor is Astrium Space Transportation.
The Ariane 5 rocket, which has achieved 55 consecutive successful launches since 2003, is Arianespace's workhorse vehicle - operating alongside the smaller Russian Soyuz and solid-fueled Vega launchers at the Guiana Space Center in French Guiana.
Communications satellites fly on a launcher configuration called the Ariane 5 ECA with a cryogenic hydrogen-fueled HM7B upper stage engine.
The Ariane 5's competitiveness hinges on its ability to launch two satellites at a time, allowing two customers to share the launch costs.
Laurent said Arianespace's market research shows the largest satellites, which ride in the upper position on the Ariane 5, are growing in size and mass - increasing from 6.1 or 6.2 metric tons up to 6.7 metric tons.
Arianespace uses several different versions of the Sylda adapter, and the company could use a shorter Sylda to give more room to upper passengers on the Ariane 5. But that would leave less volume for smaller payloads underneath.
"The small satellites that we put under the Sylda are also getting bigger - either the traditional chemical ones at 3.5 [metric] tons or the electric propulsion satellites, which are less dense but have more volume because they require larger solar arrays, etc.," Laurent said.
The cost of the design change - to extend the length of the payload fairing, lengthen the Sylda adapter, or both - must be paid by the European Space Agency's member states, Israel said.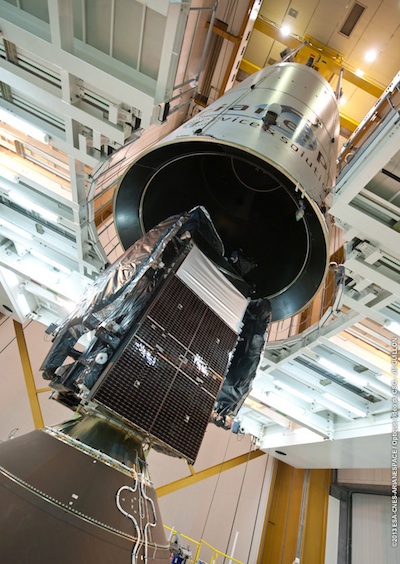 File photo of an Ariane 5 payload fairing encapsulating a satellite before launch. Credit: Arianespace/CNES/ESA

Jean-Jacques Dordain, ESA's director general, said in an interview that France and Switzerland should lead the funding of the modified Ariane 5 ECA payload accommodations. France is Europe's leading funder for the Ariane 5 rocket, and RUAG Space builds the Ariane 5's payload fairings in Switzerland.
"I don't know if this is an extension of the fairing or a modification of the structure inside," Dordain said. "What we want is to make sure that we can launch electric propulsion satellites, because the volume of electric propulsion satellites is more than the volume of chemical propulsion satellites. We want to make sure that Arianespace can sign contracts to launch these new types of satellites."
Europe is starting development of the Ariane 6 rocket - Ariane 5's replacement - on a schedule to begin launches in 2021. In the meantime, work is already underway on a larger Ariane 5 upgrade called the Ariane 5 Mid-life Evolution, including a new restartable Vinci upper stage engine to boost the launcher's capacity by 2017.
Israel said the Ariane 5's volume expansion should cost less than 100 million euros, or about $133 million, and be ready in two years.
RUAG Space is already working on an extended Ariane 5 payload fairing for the Ariane 5 ME for launch in 2017. The new fairing will stretch 62 feet tall, about 7 feet taller than the longest version of the Ariane 5 ECA's current payload shroud.
Dordain said industry should try to ensure all three vehicles - the adapted Ariane 5 ECA, Ariane 5 ME and Ariane 6 - use the same payload fairing to save costs.
"We are discussing with industry with that," Dordain said. "If we can make the same fairing for Ariane 5 ECA, Ariane 5 ME and Ariane 6, that's much preferred."