Russian spy payload in orbit after successful Soyuz launch
BY STEPHEN CLARK
SPACEFLIGHT NOW
Posted: June 8, 2013


Russia launched a Soyuz rocket from the country's northern space base Friday, successfully placing a military spy satellite into orbit to collect high-resolution imagery for Russia's strategic forces and intelligence agencies.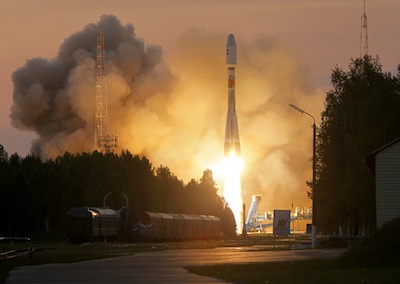 Photo of the Soyuz launch from the Plesetsk Cosmodrome, which occurred at 10:37 p.m. Moscow time on Friday. The sun was low on the horizon at Plesetsk in Russia's northern Arkhangelsk region. Credit: Russian Defence Ministry

The secretive payload, believed to be Russia's second Persona-class reconnaissance satellite, launched aboard a Soyuz 2-1b rocket at 1837 GMT (2:37 p.m. EDT) Friday from the Plesetsk Cosmodrome, according to the RIA Novosti news agency.
The Soyuz 2-1b launcher, a modernized version of Russia's workhorse rocket family, put its payload in orbit about nine minutes later.
Data obtained Saturday from U.S. military tracking radars showed the satellite and the Soyuz rocket's third stage in orbit. The objects had a perigee, or low point, about 115 miles above Earth and an apogee, or high point between 420 and 420 miles high. The orbital inclination was 98.3 degrees.
The orbit suggests the classified payload, given the name Kosmos 2486 by the Russian military, is the second Persona imaging satellite, following the launch of the first craft in 2008.
The first Persona satellite suffered an electronics failure in orbit soon after launch, according to a report in a state-owned newspaper.
Friday's launch marked the sixth launch of a Soyuz rocket in 2013, and the 28th space launch to reach orbit worldwide this year.