Boeing's crew capsule tested for launch environment
BY STEPHEN CLARK
SPACEFLIGHT NOW
Posted: June 2, 2013


Boeing's CST-100 human-rated commercial crew capsule has moved two steps closer to reality with the successful completion of aerodynamic testing in a wind tunnel and a propellant plumbing system for the craft's Atlas 5 launch vehicle, NASA and Boeing announced Friday.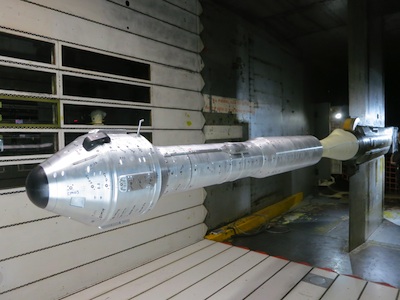 Photo of a scale model of the CST-100 spacecraft and Atlas 5 rocket in the wind tunnel at NASA's Ames Research Center in Moffett Field, Calif. Credit: Boeing Co.

The venerable aerospace contractor is working with NASA under an agreement worth $460 million, leading the development of an economical space capsule capable of transporting up to seven people to the International Space Station.
The CST-100 spacecraft, one of three vehicles vying to win business to carry NASA astronauts to the space station, will launch on United Launch Alliance Atlas 5 rockets from Cape Canaveral Air Force Station, Fla.
NASA funds Boeing's work under a series of financial milestones, bestowing payments as the company completes testing and design reviews.
One of the milestones, completed in March, involved the testing of a liquid oxygen feed line on the Atlas 5 rocket, in which cryogenic fluid courses from the rocket's Centaur upper stage propellant tanks to two RL10 engines.
The CST-100 spacecraft will launch on Atlas 5s with a twin-engine Centaur upper stage. All of the expendable rocket's 38 flights to date have flown with single-engine Centaur stages. The capsule will launch on a version of the Atlas 5 known as the 422 model - with a two-engine Centaur and two solid rocket boosters - in the launcher's catalog of configurations tailored to the size and destination of the payload for each launch, according to a Boeing spokesperson.
So far, all of the Atlas 5 rocket's missions have used a single-engine Centaur stage. The manned CST-100 missions will add the complexity of two RL10 engines, requiring a change in the plumbing feeding hydrogen and oxygen propellants into the engines, which will inject the capsule into orbit.
Boeing and ULA completed a wind tunnel test at NASA's Ames Research Center in California in May, gathering data on how the Atlas 5 and CST-100 respond to aerodynamic forces.
"The CST-100 and Atlas 5, connected with the launch vehicle adaptor, performed exactly as expected and confirmed our expectations of how they will perform together in flight," said John Mulholland, Boeing's vice president and manager of commercial programs, in a statement.
Engineers installed a scale model of the integrated Atlas 5 and CST-100 into an 11-foot-diameter transonic wind tunnel at Ames and evaluated the airflow over the launch vehicle.
Boeing and two competitors, SpaceX and Sierra Nevada Corp., won Space Act Agreements from NASA in August 2012 totaling more than $1.1 billion. The space agency awarded the agreements - called Commercial Crew integrated Capability, or CCiCap - to advance human spacecraft concepts already being developed by each company.
NASA started funneling money into the commercial crew program in 2010, establishing a public-private partnership in which companies manage their own development but receive financing and guidance from NASA.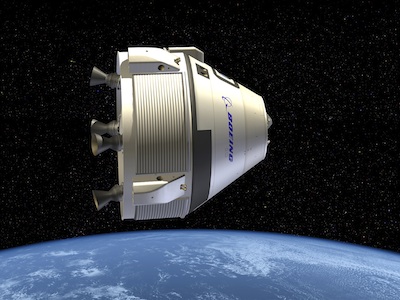 Artist's concept of the CST-100 spacecraft. Credit: Boeing Co.

In a statement released Friday, NASA said Boeing is on track to complete all 19 of its CCiCap milestones by mid-2014. In the next few months, Boeing plans a test of the capsule's orbital maneuvering engine, an interface test with mission control in Houston, and testing of software and the Atlas 5 rocket's emergency detection system.
Boeing's 21-month CCiCap agreement is due to conclude with the CST-100's critical design review.
The wind tunnel and liquid oxygen duct testing were the first two performance milestones achieved by Boeing in the CCiCap program. The company has finished six other design milestones since August 2012.
NASA is in the process of refining its procurement strategy for the next round of the commercial crew program, leading to crewed test flights in a few years and operational missions by 2017.
Boeing officials said in April they expect the first piloted orbital flight of a CST-100 capsule to occur some time in 2016.
NASA plans to switch from Space Act Agreements to contracts in mid-2014 with at least two commercial crew firms, assuming Congress appropriates sufficient funding for the program. If not, NASA will be forced to pick a single provider, running the risk of raising the cost of the initiative and eliminating the element of competition - an objective highly prized by NASA officials.
NASA will award the second phase of commercial crew certification contracts in the spring or summer of 2014. Those contracts will contain work to demonstrate spacecraft and rockets in flight and put suppliers on a path to to be certified by NASA for trips to the space station, according to Phil McAlister, director of commercial spaceflight at NASA Headquarters.