Shuttle astronaut to pilot Virgin's passenger spaceship
BY STEPHEN CLARK
SPACEFLIGHT NOW
Posted: May 7, 2013


Veteran space shuttle commander Rick Sturckow has joined Virgin Galactic to pilot the company's suborbital passenger spaceship, officials announced Tuesday.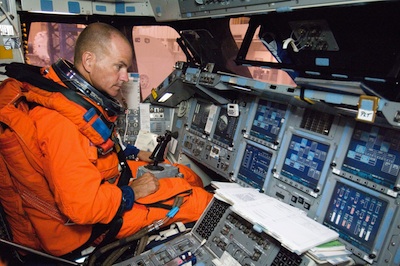 File photo of astronaut Rick Sturckow during training before a space shuttle flight. Credit: NASA

Sturckow and Michael Masucci, a former U.S. Air Force test pilot, will conduct training and flight testing at Virgin Galactic's base in Mojave, Calif.
"Viewing the Earth from space is such a unique and unforgettable experience," Sturckow said in a statement. "I'm excited to be a part of the Virgin Galactic team that is revolutionizing access to space, making this opportunity a possibility for all."
Sturckow, 51, flew on four space shuttle missions - twice as pilot and two times as commander. All four flights focused on the assembly of the International Space Station.
The retired U.S. Marine Corps colonel spent 51 days in space. Sturckow last flew on the STS-128 mission, commanding the shuttle Discovery in 2009 to help outfit the space station for a six-person crew.
One of Sturckow's last positions at NASA was as deputy chief of the agency's Astronaut Office, flying weather reconnaissance for the last few space shuttle missions.
Masucci has more than 9,000 flight hours in more than 70 different types of airplanes and gliders, according to Virgin Galactic. He is a graduate of the U.S. Air Force Test Pilot School and served as combat pilot on the U-2 spy plane and instructor on the F-16, T-38 and gliders.
After his Air Force career, Masucci flew for Xojet Inc., a private charter airline company.
"I am pleased to have these two incredibly accomplished pilots join us during this important time as we embark on a series of important rocket-powered flight tests for SpaceShipTwo, ultimately testing the vehicle in space," said George Whitesides, Virgin Galactic's president and CEO, in a statement. "Their collective experience and outstanding performance in various demanding environments will make them invaluable assets to the Virgin Galactic team."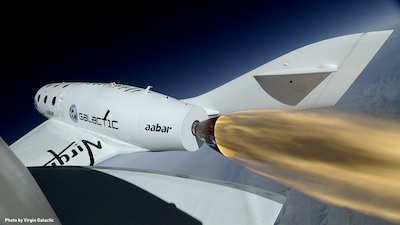 Photo from a camera on SpaceShipTwo's tail during its first powered flight April 29. Credit: Virgin Galactic

Sturckow and Masucci join a cadre of Virgin Galactic pilots flying the company's SpaceShipTwo rocket plane and WhiteKnightTwo carrier aircraft.
Virgin Galactic plans a series of increasingly ambitious test flights this year after completing SpaceShipTwo's first rocket-powered flight over Mojave on April 29.
"It seems like we hit it out of the park," Whitesides said in an interview last week.
The 16-second burn of SpaceShipTwo's hybrid rocket motor, built by Sierra Nevada Corp., appeared smoother than some of its ground tests, Whitesides said.
Virgin Galactic expects to conduct its first SpaceShipTwo flight above 100 kilometers, the internationally-recognized boundary of space, before the end of 2013. Commercial service in New Mexico could begin next year.
Before then, pilots and engineers at Virgin and Scaled Composites, builder of SpaceShipTwo and its mothership, aim to "expand the envelope" of the spacecraft, pushing it higher and faster and verifying its performance if something goes wrong, Whitesides said.
"In the next few flights, it will be a matter of simply burning the motor longer," Whitesides told Spaceflight Now. "Toward the second half of the year, we might open it up into some off-nominal configurations."
On the regulatory front, Whitesides said Virgin Galactic will submit its license request to the Federal Aviation Administration soon for passenger flights. The FAA must respond to the request within 180 days by law, he said.
Whitesides said Virgin Galactic has signed up approximately 570 passengers to fly on the six-seat space plane, which provides riders with several minutes of weightlessness and an astronaut's-eye view of Earth for a price tag of about $200,000.