NASA buys six more seats on Russian Soyuz spacecraft
BY STEPHEN CLARK
SPACEFLIGHT NOW
Posted: April 30, 2013


Uncertain when U.S. commercial spaceships will be ready for the job, NASA has signed a $424 million contract extension with the Russian space agency to transport astronauts to and from the International Space Station through June 2017, the space agency announced Tuesday.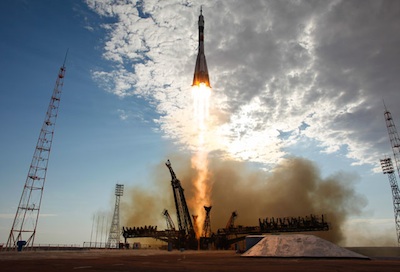 File photo of a Soyuz launch from the Baikonur Cosmodrome in Kazakhstan. Credit: NASA/Carla Cioffi

The extension, which was expected, ensures U.S. and partner astronauts have access to the space station until commercial providers can take over transportation services, NASA said.
The deal with the Russian Federal Space Agency - Roscosmos - covers the training and launch of six astronauts on Soyuz spacecraft in 2016, plus landing and recovery services through June 2017. The accord covers rides for U.S., European, Japanese and Canadian astronauts.
The contract's value is worth about $70.7 million per astronaut seat. The last time NASA extended Russia's contract, it paid roughly $62.7 million for a roundtrip ride. NASA said in a statement the contract extension announced Tuesday covers additional support services previously contained in a separate agreement.
NASA expects commercial spacecraft developers to begin service to the space station some time in 2017, ending U.S. reliance on Russia for crew transportation.
But agency officials caution more delays would occur if NASA does not receive the $821 million it proposed for the commercial crew program in fiscal year 2014, which begins Oct. 1.
The start of operational commercial crew flights was pushed back to 2017 when Congress appropriated less funding for the program than requested by the Obama administration in 2011 and 2012.
"If we had been funded at the [original] level, you could argue we would be less than two years away from having U.S. crew access to space," said Phil McAlister, director of commercial spaceflight development at NASA, in a April 18 meeting with the NASA Advisory Council.
In a blog posted on NASA's website Tuesday, NASA Administrator Charlie Bolden wrote that the Soyuz contract extension would not have been needed if the agency received the money it requested. Bolden wrote more Soyuz purchases will be necessary if the commercial crew budget is cut again.
NASA has development agreements to funnel government funding into spacecraft being designed by Boeing Co., SpaceX and Sierra Nevada Corp. The public-private partnership agreements expire in May 2014, and NASA plans to negotiate contracts with at least two of the companies for a test and certification campaign in 2015 and 2016, including flight demonstrations.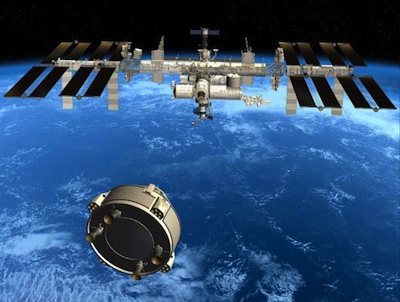 Artist's concept of Boeing's CST-100 spacecraft approaching the space station. Credit: Boeing

But that plan is contingent on funding from Congress. Without a full appropriation, NASA will have to scale back its commercial crew program to focus on a single provider, delay the start of operations, or both, according to NASA officials.
NASA is turning to the private sector for crew and cargo flights to the space station, freeing agency resources to focus on the exploration of deep space with the government-owned Orion capsule and Space Launch System.
Kirk Shireman, NASA's deputy space station program manager, said April 18 the top risk facing the international project was the start of commercial crew transportation and the decision when to stop purchasing Soyuz seats and begin buying commercial rides.
"All of our top risks are budgetary now," Shireman told a NASA advisory committee. "We're very worried, from a budget standpoint, about commercial crew and Soyuz. Today, there is no budget for commercial crew and Soyuz."
At some point, once NASA is more confident in the commercial crew budget and sees progress from spacecraft providers, officials must start contract negotiations for seats on U.S.-built commercial vehicles.
"It's an expensive proposition to have an overlap between Soyuz and commercial crew," Shireman said. "Fundamentally, you're paying for a service on one side or the other that you're probably not going to use."
There is a three-year lead time for construction of Soyuz vehicles, forcing NASA to make decisions early.
"We don't want to be in a situation where we can no longer have U.S. crew members on-board ISS because we didn't buy any more Soyuz and commercial crew isn't ready," Shireman said.
"The policy is we still switch to commercial when it is ready," McAlister said. "If I knew for sure that commercial [providers] would show up in 2017, we would just end the Soyuz purchases. It's going to be really hard three years ahead of time to say for sure we're going to show up, not really from a technical standpoint, but look at our budget."