SpaceShipTwo's first rocket flight breaks sound barrier
BY STEPHEN CLARK
SPACEFLIGHT NOW
Posted: April 29, 2013


Virgin Galactic's SpaceShipTwo rocket plane lit its engine for the first time in flight Monday, powering through the speed of sound and moving a step closer to spaceflight for the masses.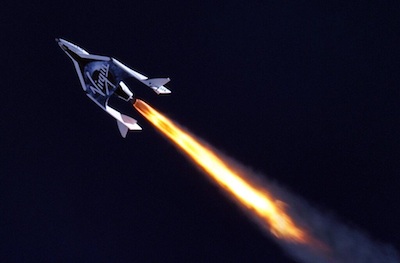 SpaceShipTwo makes its first powered test flight. Credit: MARS Scientific/Clay Center Observatory/Virgin Galactic

The spaceship fired its hybrid rocket engine for about 16 seconds after dropping from the belly of its WhiteKnightTwo carrier plane, long enough to accelerate past the sound barrier and release a stream of exhaust visible from the ground, delighting throngs of spectators near the test site in Mojave, Calif.
Triggered by pilots at the controls of SpaceShipTwo, the rocket firing occurred at about 7:50 a.m. local time (10:50 a.m. EDT; 1450 GMT), about 45 minutes after the mothership and SpaceShipTwo took off from Mojave Air and Space Port.
SpaceShipTwo reached a top speed of Mach 1.2 and a peak altitude of 55,000 feet, according to Virgin Galactic.
The 60-foot-long spacecraft, dubbed Virgin Spaceship Enterprise, was piloted by Mark Stucky and Mike Alsbury, who guided the space plane back to Earth like a glider to a runway landing at Mojave Air and Space Port in California's high desert.
"For the first time, we were able to prove the key components of the system, fully integrated and in flight," said Richard Branson, founder of Virgin Group and Virgin Galactic. "Today's supersonic success opens the way for a rapid expansion of the spaceship's powered flight envelope, with a very realistic goal of full space flight by the year's end. We saw history in the making today and I couldn't be more proud of everyone involved."
Monday's flight did not reach space, but it was a giant leap toward Virgin Galactic's business objective of flying paying passengers on high-altitude suborbital hops just beyond 100 kilometers, or 62 miles, the accepted threshold of space.
More than 500 people have signed up to fly on SpaceShipTwo. Branson has said he and his family will be on the first passenger flight.
"This is a momentous day and the single most important flight test to date for our Virgin Galactic program," Branson wrote in a blog posting. "What a feeling to be on the ground with all the team in Mojave to witness Virgin Galactic go faster than the speed of sound."
The WhiteKnightTwo carrier plane and SpaceShipTwo were designed and built by Scaled Composites, established in 1982 by legendary aircraft designer Burt Rutan.
SpaceShipTwo's hybrid rocket motor, built by Sierra Nevada Corp., burns rubber-based solid fuel and liquid nitrous oxide.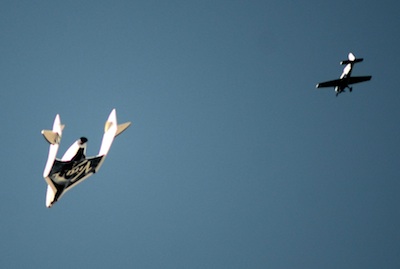 SpaceShipTwo glides toward landing accompanied by a chase plane. Credit: Gene Blevins/LA Daily News

Branson said Monday's test flight could lead to SpaceShipTwo's first jaunt into space later this year, with commercial service commencing as soon as next year.
"It marks the moment when we put together two key elements of our spaceflight system - the spacecraft and its rocket motor, which have both been tested extensively by themselves over several years - and start the phase of testing that will demonstrate our vehicle's ability to go to space (hopefully later this year)," Branson wrote.
The powered flight, which was not officially announced ahead of time by Virgin Galactic, comes after a three-year flight test program that began with SpaceShipTwo captive flights attached to its mothership. Including Monday's sortie, the space plane has accomplished 26 free flights with pilots at the controls.
"The rocket motor ignition went as planned, with the expected burn duration, good engine performance and solid vehicle handling qualities throughout," said George Whitesides, Virgin Galactic president and CEO. "The successful outcome of this test marks a pivotal point for our program. We will now embark on a handful of similar powered flight tests, and then make our first test flight to space."
SpaceShipTwo is a larger version of the single-pilot craft used to capture the $10 million Ansari X Prize in 2004 after completing two flights of a private reusable manned spacecraft within two weeks.
In a statement released soon after the rocket-powered test flight, the Commercial Spaceflight Federation congratulated Virgin Galactic and Scaled Composites on the success.
"Because of their efforts, we are one step closer to achieving safe, routine, and cost-effective access to space that will create abundant opportunities for space-based research and that will inspire the next generation of engineers and scientists," said Michael Lopez-Alegria, president of the Commercial Spaceflight Federation.