China, Russia schedule launches an hour apart
BY STEPHEN CLARK
SPACEFLIGHT NOW
Posted: April 25, 2013


China and Russia plan to launch two satellite launchers Friday barely an hour apart, lifting Earth observation and navigation payloads into orbit from military-run space bases.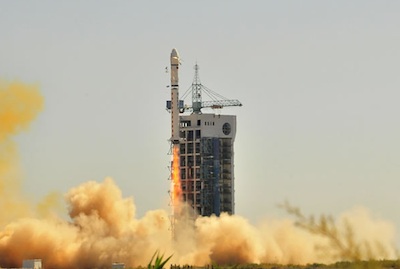 File photo of a Long March 2D rocket launch. Credit: CGWIC

The first launch is set for 0413 GMT (12:13 a.m. EDT) Friday, when a Long March 2D booster will blast off from the Jiuquan launching center in northwest China.
The 13-story rocket, powered by two hydrazine-fueled stages, will race into space with China's first Gaofen high-resolution imaging satellite to support disaster response, resource protection and Chinese national security, according to the state-run Xinhua news agency.
The Long March 2D rocket will deploy the Gaofen 1 spacecraft about 13 minutes after liftoff.
Gaofen 1 is the first of up to a half-dozen similar observation satellites planned for launch through 2015, Xinhua reported. The Gaofen satellites will be controlled by civilian agencies within the Chinese government, including the Ministry of Land and Resources, the Ministry of Agriculture, and the Ministry of Environmental Protection, according to Xinhua.
Officials will also use the satellite's high-resolution imagery for cartography, ocean surveys and urban transportation management, state media reported.
Gaofen means "high resolution" in Chinese.
A little more than one hour later, a Soyuz rocket will take off from northern Russia with a navigation satellite for Russia's Glonass global navigation system.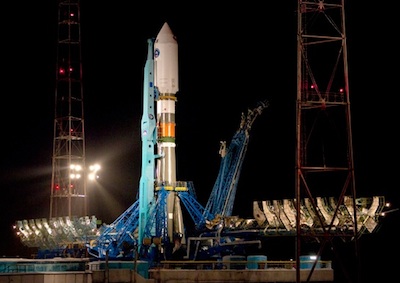 File photo of a Soyuz rocket on the launch pad. Credit: Russian Defense Ministry

The Glonass M spacecraft will launch on a Soyuz 2-1b rocket at 0523 GMT (1:23 a.m. EDT) from the Plesetsk Cosmodrome, heading to a 12,000-mile-high orbit with the additional boost from a Fregat upper stage.
Following three burns of the Fregat main engine, the upper stage will release the Glonass M spacecraft about three-and-a-half hours after launch to begin a seven-year mission.
The Glonass system broadcasts navigation signals to Russian military and civilian users around the world. It is Russia's counterpart to the U.S. Air Force's Global Positioning System.
The Glonass constellation is scattered among three orbital planes, each designed to contain eight satellites to maximize coverage around the world.
Russia initiated a satellite replenishment program to mend the fragmented Glonass fleet after a funding crisis in the 1990s rendered the Soviet-era program unable to provide even limited coverage of Russian territory.
As of April 25, the Glonass system included 23 operational satellites, plus two spacecraft undergoing in-orbit maintenance, three orbital spares, and a satellite in testing, according to Roscosmos, the Russian Federal Space Agency.
The Soyuz launch of another Glonass M satellite will restore the fleet to 24 operational satellites, the number required to achieve global navigation service.