ExoMars agreement signed by ESA and Russia
BY STEPHEN CLARK
SPACEFLIGHT NOW
Posted: March 16, 2013


Ending more than a year of negotiations and formalities, top space officials from Russia and Europe signed an agreement Thursday to partner on a pair of robotic probes to Mars set to launch in 2016 and 2018.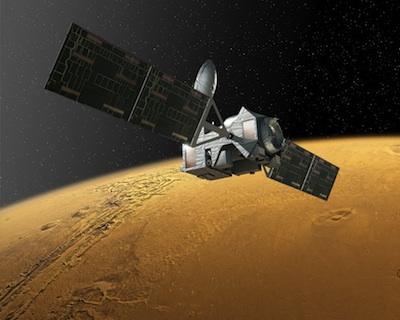 Artist's concept of the Mars Trace Gas Orbiter set for launch in January 2016. Credit: ESA

The tandem missions, collectively known as the ExoMars project, include an atmospheric science orbiter set to launch in January 2016 and Europe's first Mars rover due for departure to the red planet two years later.
The European Space Agency scrambled to open talks with Roscosmos, the Russian federal space agency, after NASA said it would be unable to build a descent system and provide two launchers for the ExoMars mission, citing budget constraints in the United States.
Russia largely replaces the role of NASA in the project, promising two Proton rockets to launch the orbiter and rover in January 2016 and April 2018, respectively. Roscosmos also committed to provide science instruments and will oversee construction of a landing module and platform to shepherd the European-built rover to the Martian surface.
"This is a momentous occasion for the ExoMars program that will see industry and scientists from Europe and Russia working together on these two exciting missions, which will develop new technologies that will demonstrate the competitiveness of European industry, be important for preparing a solid participation of ESA in future international exploration missions and address the key question of whether life ever arose on Mars," said Jean-Jacques Dordain, ESA's director general, in a statement.
The ExoMars rover will drill up to 6 feet into Martian soil, acquiring buried samples that scientists say have not been exposed to life-destroying radiation and oxidants present at the surface. The rover carries an on-board laboratory to analyze the samples and send the results back to Earth.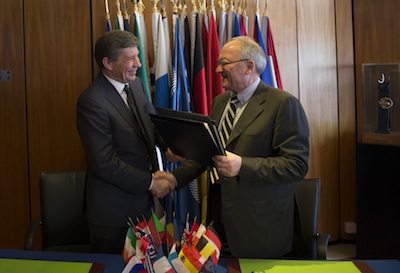 Roscosmos chief Vladimir Popovkin and ESA director general Jean-Jacques Dordain signed the ExoMars agreement Thursday in Paris. Credit: ESA

ESA's financial obligation to the ExoMars mission is 1.2 billion euros, or about $1.6 billion.
The agency's member states, Russia and NASA will foot the rest of the bill, covering science instruments, launch vehicles and engineering support. Financial values for ESA's ExoMars partners are not yet available.
The financial condition of ExoMars has been delicate for much of the mission's development, which began in 2006.
Dordain told reporters in January that ESA member states have confirmed 903 million euros of the space agency's 1.2 billion euro budget for ExoMars.
"We're not yet up to 1.2 billion [euros], but there is money today to enable us to fully fund the 2016 mission and virtually the 2018 rover," Dordain said Jan. 24. "We are placing industrial contracts for the whole of 2016 mission and a major part of the 2018 rover."
ESA officials are seeking funding for the rest of ExoMars from other ESA accounts, including the general studies fund and the agency's science program. ESA primarily funds ExoMars through its exploration program.
Thales Alenia Space of France and Italy is the prime contractor for the Mars Trace Gas Orbiter and a European-built landing demonstrator set to launch in 2016. Astrium UK is leading industrial work on the 2018 rover.
Dordain and Roscosmos head Vladimir Popovkin signed the bilateral agreement Thursday at ESA Headquarters in Paris.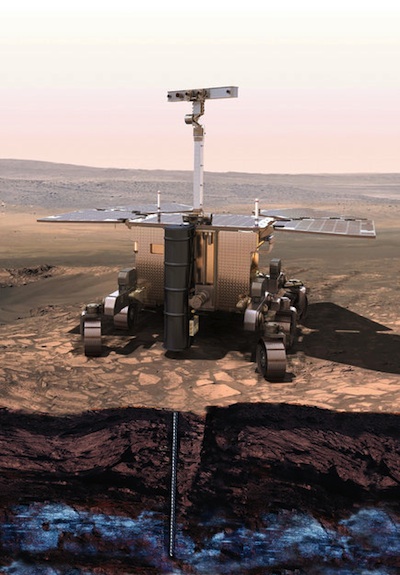 Artist's concept of the ExoMars rover with its drill. Credit: ESA

"It has been a long way, we have performed a large amount of work together. The ExoMars programme is to become the second large project after Soyuz in Kourou," Popovkin said, referring to another joint program to launch Russian Soyuz rockets from Europe's spaceport in French Guiana. "It confirms again that projects of such tremendous scale have to be implemented through international cooperation. The scientific data that we are going to obtain during all the planned missions are important for the worldwide community."
The agreement was to be signed before the end of 2012, but the Russian Foreign Affairs Ministry suggested changes to the accord, forcing another round of negotiations ahead of final approval this week.
A European-built entry and descent module, or EDM, will ride to Mars as a piggyback payload on the Trace Gas Orbiter, which seeks to measure methane and other atmospheric gases that could signal active biological or geological processes on Mars.
"Europe needs to learn how to land on Mars, and this EDM will be the vehicle by which we will develop the technologies and hopefully show that we can do it," said Jorge Vago, ESA's ExoMars project scientist.
The battery-powered lander will carry a camera and environmental sensors to measure weather and electrical charging in the atmosphere, a first-time measurement on Mars, Vago told Spaceflight Now.
ESA continued work on the ExoMars program throughout 2012 as officials completed the political framework for the missions.
"With launch three years from now, this means the orbiter and the lander have to be delivered, I would say, by mid-2015 at the latest," Dordain said in January. "That's where we are. We couldn't afford to stop industrial activities."
NASA is still a junior partner in the ExoMars program, providing engineering support, a communications relay radio, and significant hardware for scientific instruments.
The U.S. space agency plans to launch a copy of the Curiosity rover to Mars in 2020.