Ocean monitor, smartphone satellite launched from India
BY STEPHEN CLARK
SPACEFLIGHT NOW
Posted: February 25, 2013


India's workhorse Polar Satellite Launch Vehicle lifted seven satellites into orbit Monday, bolstering global ocean research, space surveillance, and taking miniature technology to new heights.
Video replay of the launch. Credit: ISRO/YouTube

The 145-foot-tall rocket blasted off at 1231 GMT (7:31 a.m. EST) from the Satish Dhawan Space Center on India's east coast, where it was 6:01 p.m. local time.
The expendable four-stage launcher climbed into a sun-splashed evening sky, initially flying southeast over the Bay of Bengal, and then turning south to bypass Sri Lanka and ascend into space over the Indian Ocean.
The four-stage PSLV launched in a "core-alone" configuration without the assistance of strap-on boosters.
The mission's seven payloads were deployed in orbit 490 miles above Earth in less than 22 minutes, wrapping up the PSLV's 23rd mission and its 19th success in a row.
Indian President Pranab Mukherjee was in the launch control center, observing the launch and congratulating the Indian Space Research Organization on the success.
"The PSLV has become a household name in our country, and this mission will only reaffirm this position with its accuracy [and] reliability," Mukherjee said. "Our launch capabilities have been widely recognized all over the world with ISRO increasingly launching satellites from other countries."
Among the rocket's passengers: The first asteroid-hunting satellite, a French-Indian ocean research craft, a small spacecraft built around a smartphone, a Canadian space surveillance satellite, two Austrian mini-telescopes, and a CubeSat built by students in Denmark.
The 900-pound SARAL satellite, equipped with a Ka-band altimeter to measure the height of ocean waves, separated first from the Indian booster and unfurled its solar panels moments later.
Jointly developed by France and India, the SARAL mission will bounce radar waves off ocean and ice surfaces to measure topography, pulling back the curtain on ocean circulation and giving scientists insights into its role in global climate.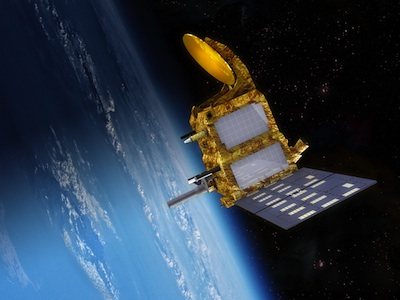 Artist's concept of the SARAL satellite in orbit. Credit: CNES



The radar signal will measure the height of waves with an accuracy of just a few inches, a feat similar to measuring the thickness of paper lying on the ground from the top of a skyscraper, according to scientists.

SARAL's Ka-band antenna, built by Thales Alenia Space and funded by France, will be activated Tuesday and immediately begin collecting data, but the system will not be fully operational until spring, when SARAL reaches its final orbit and engineers declare the instrument healthy, according to Pierre Sengenes, the mission's project manager at CNES, the French space agency.

France's investment in SARAL was about $126 million, Sengenes told Spaceflight Now. India's budget for SARAL, which covered the satellite bus and launcher, was not disclosed.

SARAL joins the U.S.-French Jason 2 satellite, which also measures ocean topography from orbit.

But SARAL flies in a different orbit than Jason 2, which launched in 2008. And SARAL's high-frequency Ka-band radar offers twice the spatial resolution of Jason 2's altimeter, giving researchers better data in coastal zones.

"The type of data collected by SARAL will be exactly the same as Jason 2," said Amandine Guillot, SARAL project scientist at CNES. "But we can mention that thanks to its inclination, SARAL will collect data over ice sheets."

Sea-surface terrain can be used to chart currents, water temperatures, tides, and ocean eddies, scientists say.

Forecasters use ocean topography data in computer models predicting weather and climate on time scales ranging from a few days to more than a year.

SARAL also carries a communications package named ARGOS to collect observations from a network of ocean buoys and ground stations providing in situ data on wave height, period, water and air temperature, and other conditions.

Six smaller satellites rode the Polar Satellite Launch Vehicle as secondary payloads.

Canada's NEOSSat satellite is the first space telescope designed to search for hazardous Earth-crossing asteroids.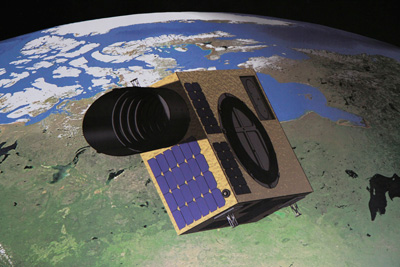 Artist's concept of the NEOSSat satellite in orbit. Credit: University of Calgary



The $24 million NEOSSat mission will scan the sky for asteroids lurking near Earth, including objects orbiting close to the sun, making their discoveries challenging for traditional ground-based telescopes.

Engineers outfitted the suitcase-sized satellite with a baffle to allow the telescope to point closer to the sun than other observatories. Astronomers will try to pick out asteroids as they streak through a matrix of stars, detecting between four and 12 500-meter, or 1,640-foot, asteroids each month, plus smaller objects.

You can find more details on NEOSSat in our complete story on the mission.

Canada's $65 million Sapphire satellite was also aboard the PSLV for Monday's launch.

Sapphire is Canada's first operational military satellite, and its optical telescope will track other satellites orbiting Earth at higher altitudes, including objects in geosynchronous orbit.

The 326-pound spacecraft was built by Surrey Satellite Technologies Ltd. under the authority of MDA Corp., Sapphire's prime contractor.

The Canadian Department of National Defence plans to share Sapphire's tracking data with the U.S. Air Force, which monitors all objects in orbit.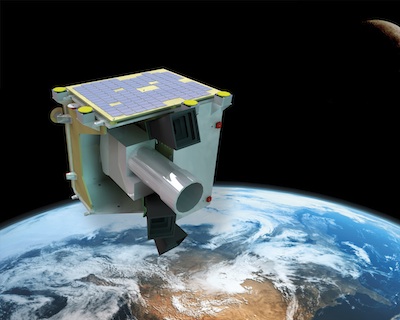 Artist's concept of the Sapphire satellite in orbit. Credit: MDA Corp.



Another satellite on Monday's launch was the 9.4-pound STRaND 1 triple-CubeSat, a tiny spacecraft with lofty goals.

STRaND 1 is the world's first satellite with a smartphone-based computer. Engineers plan to switch on the satellite's Google Nexus One smartphone later in the mission to demonstrate the low-cost, off-the-shelf system can control a satellite in space.

Two small Austrian satellites, billed as the smallest space telescopes ever launched, will study the brightest stars in the sky with 10 times the precision of ground-based observatories, according to mission officials.

Named BRITE-Austria and UniBRITE, the satellites are about the size of a toaster oven and were developed with the help of engineers at the University of Toronto.

Students from Aalborg University in Denmark assembled a CubeSat named AAUSAT 3 with two ship tracking receivers to help monitor marine traffic, particularly in a region near Greenland.