Commercial crew program threatened by budget cuts
BY STEPHEN CLARK
SPACEFLIGHT NOW
Posted: February 23, 2013


Automatic spending cuts due to go into effect March 1 would likely extend U.S. reliance on Russia for human spaceflight, delay development of badly-needed next-generation weather satellites, and force a reduction in radar scans searching for space debris, according to Obama administration officials.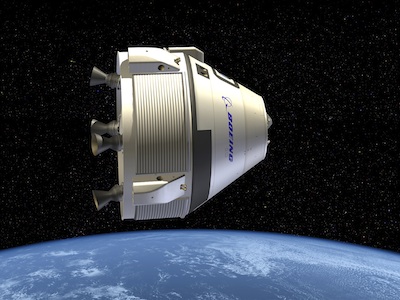 Artist's concept of Boeing's CST-100 commercial crew spacecraft. Credit: Boeing



That's if Congress and the White House don't act to avoid the across-the-board cuts, which will be automatically triggered at the end of next week without a compromise on how to deal with the federal government's budget deficit.

NASA would lose about $894 million from its current budget outlook in the period between March 1 and Sept. 30, the end of fiscal year 2013.

According to a letter to the chair of the Senate Appropriations Committee from NASA Administrator Charles Bolden, the space agency's commercial crew program would suffer the brunt of the budget cuts.

By the second half of 2013, NASA says it will be unable to make payments to companies working on private spaceships under the agency's commercial crew program.

"Overall availability of commercial crew transportation services would be significantly delayed, thereby extending our reliance on foreign providers for crew transportation to the International Space Station," Bolden wrote in a letter to Sen. Barbara Mikulski, D-Md., chairwoman of the Senate Appropriations Committee.

NASA has public-private partnership agreements with Boeing Co., SpaceX and Sierra Nevada Corp. to fund the design and testing of commercial spacecraft designed to carry astronauts to the space station. NASA makes payments to the companies upon completion of predetermined development milestones.

Until a commercial provider becomes operational, which NASA projects by 2017, U.S. astronauts will ride Russian Soyuz spacecraft while voyaging to the space station and back to Earth.

Bolden wrote the automatic cuts, known as sequestration, could cause launch delays for NASA's scientific research satellites and potential cancellations of space technology projects, such as advanced communications, radiation protection, nuclear systems and other fields.

The White House and Congress agreed on the sequestration plan in 2011 as part of a compromise to raise the federal government's debt limit. Sequestration was meant to be a "poison pill" to compel leaders in both parties to reach an agreement to rein in the budget deficit.

But lawmakers could not come to a resolution, and Congress reached a deal Jan. 1 to put off the spending cuts for two months and extend current income tax rates for individuals earning less than $400,000 and households earning less than $450,000.

Sequestration was originally set to go into effect at the beginning of 2013. It impacts all federal discretionary spending, slashing 8.2 percent annually from non-defense government agencies and 9.4 percent from military programs.

Unless Congress and the Obama administration agree on targeted budget cuts - sparing some programs and still hitting others - every corner of the government's military, research and regulatory apparatus will see their funding reduced.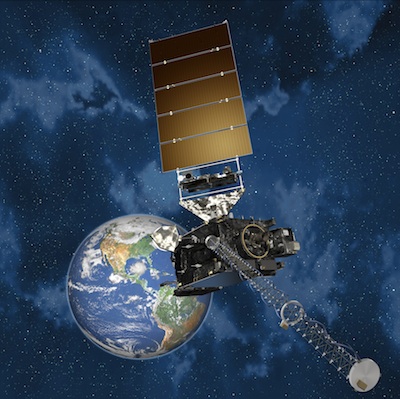 Artist's concept of next-generation GOES weather satellites. Credit: NOAA



NOAA's next-generation geostationary weather observatories, currently scheduled for launch in 2015 and 2017, would face a delay of two or three years if the automatic budget cuts take effect and stay in place.

"This delay would increase the risk of a gap in satellite coverage and diminish the quality of weather forecasts and warnings," said Rebecca Blank, acting Secretary of Commerce.

Defense Department officials say sequestration would be devastating to the military, predicting thousands of furloughs and decreased combat readiness.

Air Force Space Command announced Feb. 8 it would reduce some missile warning and space surveillance operations.

Gen. Mark Welsh, Air Force chief of staff, told a hearing of the House Armed Services Committee on Feb. 13 that Space Command would curtail observations using secondary radars to monitor for missile attacks and track objects in orbit.

The Air Force uses satellites and a network of ground-based radars for the early warning and surveillance tasks.

"We don't have as much redundancy now in the system and we don't have as much capacity to track objects in orbit," Welsh said.

Even if sequestration takes hold, it could be short-lived. The government's current budget resolution runs out March 27, and Congress must pass another budget by then to avoid a government shutdown. The new budget could include deficit reductions directed at specific programs, instead of across-the-board cuts.