Lockheed Martin joins Sierra Nevada's Dream Chaser team
BY STEPHEN CLARK
SPACEFLIGHT NOW
Posted: January 31, 2013


Lockheed Martin has joined Sierra Nevada Corp.'s Dream Chaser team, officials announced Wednesday.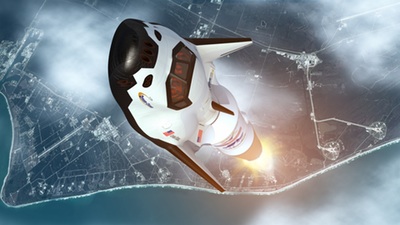 Artist's concept of the Dream Chaser spacecraft launching on an Atlas 5 rocket. Credit: Sierra Nevada Corp.

The aerospace giant has two contracts with Sierra Nevada for safety certification and construction work, according to Mark Sirangelo, Sierra Nevada's executive vice president and chairman of its space systems division.
The companies did not disclose the value of the contracts.
Speaking to reporters Wednesday, Sirangelo called the contracts the "beginning of a very exciting and a very expansive relationship where Lockheed Martin has joined our Dream Chaser team as an exclusive partner to help in the certification, which is how do we get this vehicle really fit to fly safely?"
Jim Crocker, vice president and general manager for civil space at Lockheed Martin Space Systems Co., said the Sierra Nevada partnership will leverage Lockheed Martin's expertise in human spaceflight and composite aerospace structures.
Lockheed Martin will assemble the composite structure for the first space-bound Dream Chaser vehicle at NASA's Michoud Assembly Facility in New Orleans. The company will use composites developed for the F-22 and F-35 fighter planes, Crocker said.
Lockheed Martin built space shuttle external tanks at the Michoud plant, and now the company uses the facility to manufacture pressure vessels for NASA's Orion spacecraft, which the space agency is developing for exploration of deep space.
"We believe this is the beginning of a tremendous relationship that will benefit both companies in a significant way," Sirangelo said.
Sierra Nevada is developing the Dream Chaser spacecraft under NASA's commercial crew program, vying to transport astronauts to the International Space Station. NASA is turning to the private sector for human transportation to low Earth orbit after the retirement of the space shuttle.
The Dream Chaser would launch atop a United Launch Alliance Atlas 5 rocket, carry up to seven astronauts to the space station, and return to Earth to a landing on Kennedy Space Center's shuttle runway.
NASA and Sierra Nevada have a $212.5 million agreement - running through May 2014 - for the company's Louisville, Colo., space systems division to continue developing and testing the Dream Chaser. Two previous agreements provided $125 million in federal funding to go toward the Dream Chaser program.
The space agency also has a $10 million contract with Sierra Nevada to begin the process of ensuring the Dream Chaser meets stringent safety requirements for astronauts.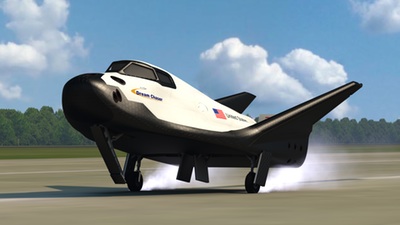 Artist's concept of the Dream Chaser landing on a runway.

Sierra Nevada's chief competitors in the commercial crew business - Boeing Co. and SpaceX - each received agreements from NASA in August twice as valuable as Sierra Nevada's award.
Boeing, SpaceX and Sierra Nevada are working on their own crewed spacecraft under a NASA-administered competition. The space agency will ultimately select at least one of the companies for final demonstrations and operational astronaut missions.
Boeing and SpaceX's spacecraft are capsule designs, while Sierra Nevada's Dream Chaser resembles a mini-space shuttle.
NASA expects at least one of the commercial crew partners will provide operational crew transport services by 2017.
Sierra Nevada is completing assembly of a Dream Chaser test article in Colorado. The full-scale test article will be shipped to Edwards Air Force Base, Calif., in about two weeks for the program's first flight test campaign, said Jim Voss, a former astronaut and Dream Chaser program manager.
Voss said the engineering test article will go through runway tow testing before it is dropped from a helicopter to demonstrate its ability to land on a runway.
"The vehicle will be released from a helicopter, and it will fly down and land autonomously on the runway," Voss said. "We will gather aerodynamic data that we need to complete our aerodynamic database for the Dream Chaser."
The Dream Chaser will be dropped from an Erickson Sky Crane about 12,000 feet above the ground and make an automated landing at a speed of more than 200 mph. Each flight will last between 30 and 40 seconds, according to Voss.
The drop tests are due to begin in about six-to-eight weeks.