Launch of Israeli satellite assigned to SpaceX
BY STEPHEN CLARK
SPACEFLIGHT NOW
Posted: January 29, 2013


A Falcon 9 rocket will launch Israel's Amos 6 communications satellite from Cape Canaveral in 2015, SpaceX and Israeli satellite operator Spacecom announced Tuesday.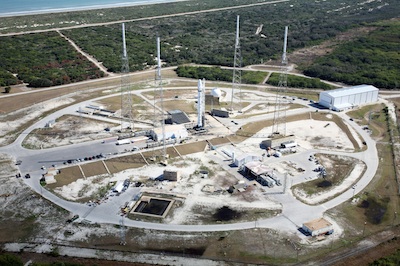 File photo of a Falcon 9 rocket on the launch pad at Cape Canaveral Air Force Station, Fla. Credit: SpaceX

The Amos 6 satellite will beam broadband Internet services to homes across Africa, Europe and the Middle East.
Space Communication Ltd. of Tel Aviv signed a $195 million contract with Israel Aerospace Industries in November for construction of the satellite. MDA Corp. of Canada is contractor for Amos 6's Ku-band and Ka-band communications equipment.
Spacecom and SpaceX signed an agreement in 2010 for the launch of an unspecified Amos communications satellite, and Tuesday's announcement identified the 12,125-pound Amos 6 spacecraft as Spacecom's first payload to fly with SpaceX.
"This last year has been one of great success and tremendous growth," said Gwynne Shotwell, president of SpaceX. "Spacecom was one of our earliest supporters. SpaceX is proud to be their partner and we look forward to launching their Amos 6 satellite."
Spacecom will position Amos 6 in geostationary orbit at 4 degrees west longitude, where it will replace the Amos 2 satellite launched in 2003. The Amos 6 satellite's design lifetime is 16 years, according to a press release.
Commercial customers and the Israeli government will use the Amos 6 satellite. Spacecom holds a $20 million agreement with the Israeli government for various communications services to be routed through Amos 6 once the craft is operational.
"We are excited to partner with SpaceX and its tremendous team. Amos 6 will be larger and stronger than Amos 2 and Amos 3 combined, and signals a new age for Spacecom," said David Pollack, president and CEO of Spacecom. "As we establish our position as a global satellite operator providing more services and capacity, Amos 6 will be a key element of our business strategy and future."
Amos 6 will launch on SpaceX's upgraded Falcon 9 rocket, which is set for its first test launch later this year from Vandenberg Air Force Base, Calif.
The current version of the Falcon 9 rocket has launched four times since 2010, including two cargo missions of SpaceX's Dragon capsule to the International Space Station.
The next Falcon 9 launch, now scheduled for liftoff on March 1, will be the last launch of the Falcon 9's existing design.
The new version of the privately-built launcher features extended first stage fuel tanks, more powerful Merlin engines and an altered first stage engine configuration.