Obama signs law easing satellite export controls
BY STEPHEN CLARK
SPACEFLIGHT NOW
Posted: January 3, 2013


President Barack Obama on Thursday signed legislation allowing the White House to remove satellite technology from a list of export-controlled munitions and other military-grade components, clearing a competitive hurdle for U.S. satellite manufacturers in the global marketplace.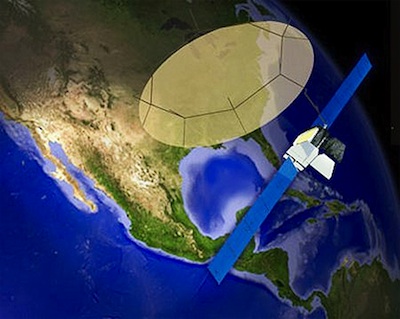 Artist's concept of a Boeing 702HP communications satellite. Credit: Boeing Co.

The provision permits the Obama administration to remove satellites and related equipment from the U.S. State Department's munitions list, which restricts the weapons material from export to other countries.
With President Obama's approval, satellites and their components could be moved to a list managed by the U.S. Commerce Department, giving manufacturers more flexibility to export the hardware. The technologies on the Commerce Department list are identified for use by military and civilian programs.
The National Defense Authorization Act of 2013 included the section on satellite export reform. The authorization bill, which sets policy and recommends spending levels, passed Congress in December and was signed by President Obama on Thursday.
The munitions list is part of the International Traffic in Arms Regulations, which was expanded in 1999 to include satellites after a congressional investigation found China received technical data from U.S. satellite manufacturers that built communications payloads lost on two rocket mishaps in 1995 and 1996.
China requested the information as part of inquiries into the launch failures, according to a report by a select committee of Congress established to investigate the transfer of technology to China.
Under the authorization act, satellite exports would remain prohibited for launches from China, North Korea, Iran, Cuba, Syria and Sudan. But the measure could bolster NASA's cooperative programs with Europe, Japan, Russia and other nations by simplifying technical exchanges.
The loosening of export regulations is welcome news for the U.S. space industry, which saw its market share of global satellite manufacturing cut in half since 1999.
A report by Aerospace Industries Association, an industry advocacy group, estimated that U.S. manufacturers lost $21 billion in satellite revenue from 1999 to 2009, costing about 9,000 jobs annually.
The export restrictions compelled some international manufacturers to offer "ITAR-free" commercial communications satellites for launch on Chinese rockets. The ITAR-free platforms did not include U.S. components, allowing for wider export.
Arms trade regulations required extensive paperwork and approvals each time U.S. companies wished to transfer satellite hardware or technical knowledge to an entity from another country.
"Ending this self-imposed burden on U.S. competitiveness in the global commercial satellite marketplace is critical to our national security and to ensuring the U.S. space industrial base stays second to none," said Marion Blakey, AIA president and CEO.
The American Institute of Aeronautics and Astronautics said changing satellite export policy will make it easier for U.S. satellite manufacturers to sell products overseas and streamline international collaboration.
"These reforms will allow the American aerospace industry to rebuild its lost market share, and to begin the intellectual exchanges needed to empower future innovations within the field of satellite technology," said Sandra Magnus, AIAA executive director.
A Defense Department report released in April 2012 concluded most communications and lower performing remote sensing satellites and related components could be removed from the U.S. munitions list without harm to national security.