U.S. space programs get reprieve from budget cuts
BY STEPHEN CLARK
SPACEFLIGHT NOW
Posted: January 2, 2013


NASA and U.S. military space programs, along with all other government agencies, were granted a two-month reprieve from massive budget cuts when Congress passed a bill Tuesday to put off the across-the-board spending reductions and extend current tax rates for most Americans.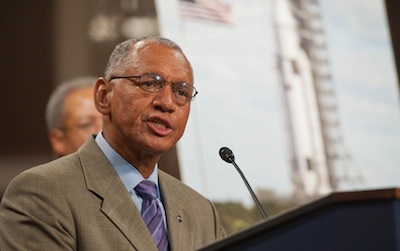 File photo of NASA Administrator Charles Bolden. Credit: NASA/Paul E. Alers

The automatic budget cuts were due to take effect Jan. 2, slashing 8.2 percent from non-defense government agencies and 9.4 percent from military programs.
Congress voted Tuesday to extend the deadline until March 1, giving lawmakers and the White House another two months to come up with an alternative plan to identify $1 trillion in savings from the overall federal budget.
The bill, which was passed by the Senate in the wee hours of Tuesday morning and approved by the House on Tuesday night, extended current tax rates for most Americans and averted the so-called fiscal cliff, a combination of tax hikes and dramatic spending cuts which experts said would have put the U.S. economy in jeopardy.
The spending cuts, or sequestration, will now take effect March 1 unless Congress and President Obama reach another agreement for more targeted savings.
Like other non-defense agencies, NASA would be hit with a 8.2 percent reduction, equivalent to nearly $1.5 billion less than its fiscal 2013 budget request of $17.7 billion.
Speaking in September at an aerospace industry conference, NASA deputy administrator Lori Garver said the budget cuts would come at "great cost" to NASA, hitting the agency's exploration and scientific programs hardest.
NASA's day-to-day operations are not expected to change dramatically immediately after sequestration takes effect, but the agency may have to consider furloughs if it operates under a reduced budget for an extended period of time, according to a letter to employees from Charles Bolden, the agency's administrator.
The White House and Congress agreed on the sequestration plan in 2011 as part of a compromise to raise the federal government's debt limit. Sequestration was meant to be a "poison pill" to compel leaders in both parties to reach an agreement to rein in the budget deficit.
But the attempts to reach a compromise fell short until the fiscal cliff deadline Jan. 1, when Congress agreed to delay the spending cuts and extend current income tax rates for individuals earning less than $400,000 and households earning less than $450,000.
Under the sequestration plan, NASA's space operations budget line, which funds the International Space Station, would be cut by $346 million. Exploration programs, including the Orion capsule, the Space Launch System, and commercial crew development, would be trimmed by $309 million.
The sequestration would net $417 million in savings from NASA's science budget. The space agency's science directorate contains funding for climate research satellites and solar system exploration projects to the moon, Mars, Jupiter, Saturn, Mercury, Pluto, and asteroids.
NASA's space technology and aeronautics lines would each receive reductions of $47 million.
The agency's cross-agency support costs, which cover overhead and center operations, would be exempt from sequestration.
NOAA's satellite budget would be slashed of $149 million meant for the next-generation GOES-R weather observatories and polar-orbiting spacecraft.
The Air Force's missile procurement account, which contains military communications, early warning, and navigation satellites, would be cut 9.4 percent next year, or about a $668 million reduction from the service's expected budget.