SpaceX, Orbcomm renegotiate launch contract
BY STEPHEN CLARK
SPACEFLIGHT NOW
Posted: January 1, 2013


SpaceX and Orbcomm Inc. have agreed to new contract terms for the launch of 18 data communications satellites beginning in mid-2013, according to a filing with a U.S. regulatory agency.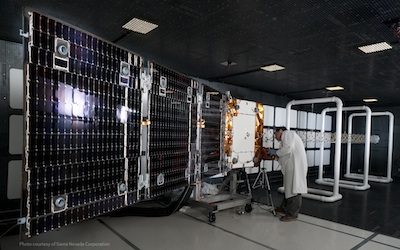 One of Orbcomm's second-generation, or OG2, satellites under construction. Credit: Sierra Nevada Corp.

The $42.6 million contract covers the launch of 18 second-generation Orbcomm satellites on two Falcon 9 rockets between the second quarter of 2013 and the second quarter of 2014, Orbcomm wrote in a Dec. 27 filing with the U.S. Securities and Exchange Commission.
Orbcomm's second-generation, or OG2, satellites will improve the company's messaging service with faster transmission speeds and increased throughput. Sierra Nevada Corp. is building the satellites.
Eight OG2 satellites will launch on a Falcon 9 rocket in mid-2013. Another Falcon 9 launch in 2014 will launch the other 10 satellites.
Orbcomm's previous launch contract with SpaceX, signed in August 2009, provided for satellite launches on an enhanced version of the company's smaller Falcon 1 booster. SpaceX has since discontinued production of the Falcon 1 launcher.
With the future of the Falcon 1 in doubt, officials with both companies planned to move the Orbcomm OG2 satellites to a Falcon 9 booster. The firms reached a deal Dec. 21, according to the SEC filing.
The value of the Falcon 1 contract was $46.6 million, according to Orbcomm.
The new contract affirms Orbcomm's commitment to SpaceX after a Falcon 9 rocket put one of its prototype second-generation satellite in the wrong orbit in October.
The 363-pound spacecraft was stranded in a lower-than-planned orbit after one of the Falcon 9's nine first stage engines shut down unexpectedly during launch. The Orbcomm craft was a secondary payload on the launch, which delivered SpaceX's privately-owned Dragon cargo capsule to orbit on a successful resupply flight to the International Space Station.
SpaceX and Orbcomm officials said the Orbcomm satellite did not reach the targeted orbit because the Falcon 9's second stage did not have enough fuel to overcome the first stage engine failure. Engineers set safety restrictions before launch to make sure the Orbcomm satellite did not stray too close to the space station, and the propellant remaining in the second stage was not enough meet the NASA-imposed safety guidelines, officials said in October.
Had the engine failure occurred during a launch dedicated to Orbcomm payloads, the satellites would have been delivered to the correct orbit, said Marc Eisenberg, Orbcomm's CEO, in a November conference call with investment analysts.