NASA kicks off commercial crew certification process
BY STEPHEN CLARK
SPACEFLIGHT NOW
Posted: December 12, 2012


NASA has awarded contracts to Boeing Co., SpaceX and Sierra Nevada Corp. to begin the process of ensuring commercial crew spacecraft meet the space agency's stringent safety standards for human spaceflight.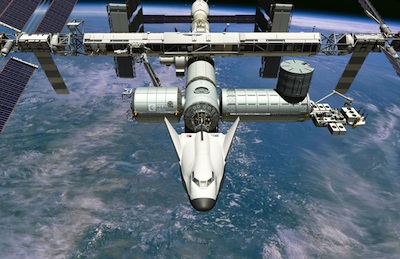 Artist's concept of a Dream Chaser spacecraft at the International Space Station. Credit: Sierra Nevada Corp.

The contracts open the next phase of NASA's commercial crew program. NASA expects the two-step certification strategy to last up to four years, culminating in test flights to the International Space Station by 2017.
Each company will receive about $10 million. The contract period begins Jan. 22 and runs through May 2014.
"I congratulate the three companies for their selection," said Ed Mango, commercial crew program manager at NASA's Kennedy Space Center in Florida. "This is the program's first major, fixed-price contract. The effort will bring space system designs within NASA's safety and performance expectations for future flights to the International Space Station."
Boeing, SpaceX and Sierra Nevada won federal investments in August to continue designing, building and testing vehicles to carry astronauts to the International Space Station. After the space shuttle's retirement, NASA is turning to privately-owned, government-supported transport systems for low Earth orbit.
The Space Act Agreements have a combined value worth up to $1.1 billion. Like the certification contracts, the development deals run through May 2014.
Boeing is developing the seven-person CST-100 crew capsule, SpaceX is upgrading its Dragon cargo spacecraft for human passengers, and Sierra Nevada is working on the Dream Chaser, a lifting body spacecraft designed to land on a runway.
The Space Act Agreement mechanism does not give NASA as much control as contracts over the work of commercial space developers. The space agency chose the Space Act Agreements because they offer more flexibility and require private investment, beneficial attributes in light of uncertain government budgets.
During first set of certification contracts, companies will develop a certification plan, propose alternate standards for certification and human-rating, and participate in technical interchanges with NASA. Engineers will also analyze potential safety hazards on each transportation system, including the spacecraft, launch vehicle, and ground systems.
The work will ensure the commercial vehicles align with NASA's certification requirements.
The second phase of the certification process, due to begin in May 2014, will be subject to a full and open competition, according to NASA. Companies will be required to demonstrate their orbital transportation systems through verifications and ground and flight testing, before NASA procures regular commercial crew transport missions, which the agency expects to begin by 2017.