Air Force awards up to $900 million in launch contracts
BY STEPHEN CLARK
SPACEFLIGHT NOW
Posted: December 4, 2012


The U.S. Air Force has selected SpaceX, Orbital Sciences Corp., and Lockheed Martin Corp. to launch small military satellites on multiple missions through 2017, the Defense Department announced Monday.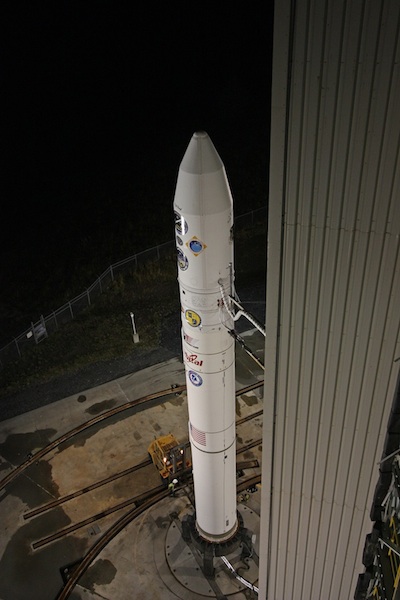 File photo of a Minotaur 4 rocket on the launch pad at Kodiak Launch Complex, Alaska. Credit: Stephen Clark/Spaceflight Now

The contract allows the Pentagon to select the companies to launch small satellites and other space missions.
SpaceX's Falcon 9 rocket, Orbital's Minotaur rocket family, and Lockheed Martin's Athena launcher will be available to launch the satellites.
The contract is worth up to $900 million, according to the Pentagon.
The indefinite-delivery/indefinite-quantity contract permits SpaceX, Orbital Sciences and Lockheed Martin to compete for individual launches. The Air Force will select one provider for each mission.
The Rocket Systems Launch Program contract runs until Nov. 29, 2017. It extends an expiring Orbital/Suborbital Program contract between the Air Force and Orbital Sciences, which has launched satellites on 13 Minotaur rockets since 2000.
The Minotaur rocket family is comprised of decommissioned Minuteman and Peacekeeper missile stages.
SpaceX and Lockheed Martin will join Orbital Sciences in the next phase of the contract.
SpaceX's Falcon 9 rocket, which has launched four times for NASA's commercial cargo transportation program, is being upgraded to launch satellites for NASA, commercial and military customers.
So far, SpaceX has not been awarded a contract for a U.S. military launch.
Lockheed Martin is reviving its Athena rocket line in partnership with ATK Space Systems, the builder of Athena's solid-fueled rocket motors.
United Launch Alliance, the joint launch services firm formed by Boeing Co. and Lockheed Martin, was prohibited from competing for the RSLP contract. ULA builds and operates the Atlas and Delta rocket fleets under the Air Force's Evolved Expendable Launch Vehicle program for launches of large, higher-priority military communications, surveillance, and navigation satellites.
The first task orders expected to be awarded under the RSLP contract are the Space Test Program 2 and Deep Space Climate Observatory missions, according to Peggy Hodge, a spokesperson at the Air Force Space and Missile Systems Center, home of the military's space procurement division.