AsiaSat taps Sea Launch as backup for SpaceX missions
BY STEPHEN CLARK
SPACEFLIGHT NOW
Posted: November 28, 2012


AsiaSat and Sea Launch announced an agreement Wednesday to give the Hong Kong-based satellite operator a backup launch opportunity for one of two payloads currently booked to fly on SpaceX's Falcon 9 rocket.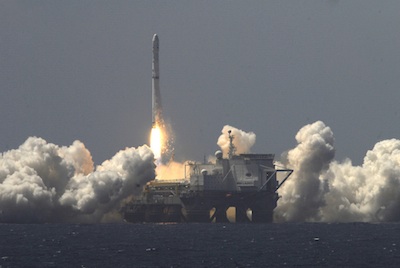 File photo of a Sea Launch Zenit 3SL rocket. Credit: Sea Launch

The backup launch arrangement covers the launch of an undisclosed satellite in the future. AsiaSat has two satellites under construction - AsiaSat 6 and AsiaSat 8 - and both are reserved for launches on Falcon 9 rockets in 2014 from Cape Canaveral, Fla.
"We are very pleased to build upon our relationship with AsiaSat with this very important agreement," said Kjell Karlsen, president of Sea Launch, in a statement. "Sea Launch is excited to play a role for AsiaSat in assuring the on-time deployment of its spacecraft."
Sea Launch uses Ukrainian Zenit 3SL rockets and Russian Block DM upper stages to place communications satellites in orbit from a mobile ocean platform positioned along the equator in the Pacific Ocean. Sea Launch operates from a home port in Long Beach, Calif.
"AsiaSat is pleased to secure this launch option with Sea Launch to ensure the timely deployment of our satellites," said William Wade, president and CEO of AsiaSat. "Sea Launch has demonstrated its flexibility in meeting the needs of our future launch requirements and we look forward to closely working with their teams moving ahead."
Sea Launch has accomplished three missions from its ocean-going launch pad since the company was reorganized under Russian ownership following a bankruptcy filing in U.S. federal court. Another Sea Launch mission is scheduled to lift off Monday with a communications satellite for Eutelsat.
AsiaSat announced the two-launch deal with SpaceX in February, joining SES of Luxembourg and Thaicom, an operator affiliated with the government of Thailand, as the first commercial satellite owners to commit to Falcon 9 launches into geostationary transfer orbit, the drop-off point for most large communications satellites bound for geostationary orbit hovering over the equator.
Since the AsiaSat deal was unveiled in February, SpaceX has booked further geostationary launches for Satmex, Asia Broadcast Satellite, Intelsat and SES.
SpaceX plans the first Falcon 9 launch into geostationary orbit in mid-2013 with the SES 8 communications satellite. SES has arranged for a backup launch opportunity on an Arianespace Ariane 5 rocket if SpaceX is unable to fulfill its launch contract for the SES 8 payload, according to an SES spokesperson.
SpaceX plans two cargo delivery flights to the International Space Station in 2013, plus the debut launch of an upgraded Falcon 9 rocket from a new launch site at Vandenberg Air Force Base, Calif.
AsiaSat secured a launch contract with International Launch Services, the U.S.-based, Russian-owned provider of commercial Proton rocket missions, in June as a backup for the AsiaSat 6 or AsiaSat 8 satellites if SpaceX is unable to launch on time.
The ILS agreement can be used to launch AsiaSat 9, a new AsiaSat communications satellite, in 2015 if the SpaceX missions proceed as planned.