NASA seeks ideas to use Hubble-class spy telescopes
BY STEPHEN CLARK
SPACEFLIGHT NOW
Posted: November 27, 2012


NASA is asking scientists to submit ideas on how to use two optical telescopes originally built for the National Reconnaissance Office, the U.S. government's spy satellite agency, in a request for information solicitation released Tuesday.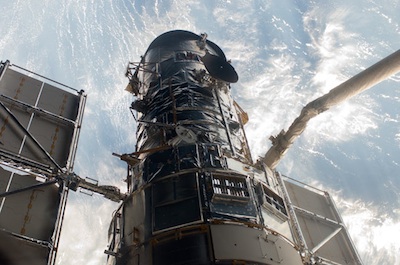 File photo of the Hubble Space Telescope. Although no photos of the NRO telescopes have been released, they have the same diameter as Hubble. Credit: NASA

Each of the telescopes have 2.4-meter, or 94-inch, primary mirrors, the same size as the Hubble Space Telescope.
The call for proposals issued Tuesday seeks information on concepts to use the NRO telescopes for astrophysics, heliophysics, planetary sciences and human spaceflight missions, according to NASA.
NASA announced in June it took possession of the spy hardware, which was developed for a canceled NRO imaging satellite program. Although NASA said each telescope is worth about $250 million, they do not come with any support equipment, such as a spacecraft, instruments, or actuators, which would be needed for a full space mission.
One of the donated telescopes could be used for the Wide-Field Infrared Survey Telescope, or WFIRST, designed to probe dark energy and detect exoplanets. WFIRST was ranked by the National Research Council as the top priority for NASA's astrophysics program after completion of the James Webb Space Telescope, a flagship $8.8 billion project due for launch in 2018.
Based on NASA's budget projections, and before the gifting of the NRO telescopes, officials said the earliest WFIRST could launch was 2024. Scientists foresee the WFIRST mission advancing research into Earth-like planets around other stars, charting the expansion of the universe, and producing the deepest all-sky map of the cosmos in near-infrared wavelengths.
A NASA review team initially assumed WFIRST would have a 1.3-meter, or 59-inch, telescope. An evaluation of a "new WFIRST" mission with the larger NRO telescope showed it would yield sharper images in a wider field-of-view - imaging a swath of the sky 100 times larger than Hubble can see in a single exposure.
But a "new WFIRST" mission using the more powerful spy telescope will need better detectors to collect imagery, and a larger spacecraft and rocket will be required.
A NASA cost estimate for the WFIRST mission concept employing one of the NRO telescopes projected the price of the project to be about $1.75 billion, more than the $1.6 billion cost highlighted before the spy hardware was considered for the job.
Michael Moore, a program executive in NASA's astrophysics division, urged scientists in September to come up with innovative ideas to reuse excess or spare equipment from previous space missions, along with the NRO telescopes, for a less expensive mission.
NASA is commissioning a science definition team to formally evaluate the scientific value of flying one of the NRO telescopes to fulfill the National Research Council's decadal survey recommendations, which ranked WFIRST as the science community's preferred astrophysics mission in the next 10 years. The team will complete its review in April.
All ideas for the NRO telescopes except those dealing with the WFIRST concept and Earth observation will be considered in the RFI released Tuesday, according to NASA. The space agency is especially interested in ideas involving commercial space development and partnership arrangements, including cost-sharing models.
"Because there are two telescopes, there is room for projects that span the gamut of the imagination," Moore said in a statement Tuesday. "They range from simple balloon flights to complex missions in science using new technologies under development and the capabilities available with the International Space Station and our commercial space flight partners."
NASA will hold a two-day workshop Feb. 5 and 6 for presentations and discussion of the most promising concepts.
"We will give all ideas equal consideration and choose the most promising for further study," said Marc Allen, acting deputy associate administrator for research in NASA's science mission directorate. "We want to tap into innovative ideas wherever we can find them in order to optimize use of these telescope assets."