Crew selected for one-year space station expedition
BY STEPHEN CLARK
SPACEFLIGHT NOW
Posted: November 26, 2012


NASA and Russia have selected Scott Kelly and Mikhail Kornienko, two veteran space fliers, for a yearlong mission on the International Space Station beginning in 2015, officials announced Monday.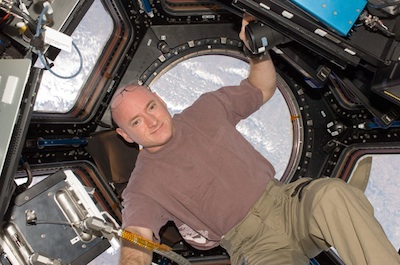 Kelly inside the cupola module on the International Space Station. Credit: NASA

The 12-month expedition will help scientists understand how the human body reacts to prolonged exposure to weightlessness and other hazards of spaceflight. It is a critical precursor to long human exploration missions around the moon, an asteroid and Mars, according to NASA.
"Congratulations to Scott and Mikhail on their selection for this important mission," said William Gerstenmaier, associate administrator for human exploration and operations at NASA Headquarters in Washington. "Their skills and previous experience aboard the space station align with the mission's requirements. The one-year increment will expand the bounds of how we live and work in space and will increase our knowledge regarding the effects of microgravity on humans as we prepare for future missions beyond low Earth orbit."
Kelly and Kornienko will launch on a Russian Soyuz spacecraft in spring 2015 and return to Earth in a Soyuz spaceship in spring 2016. Other astronauts will arrive and depart on regular six-month increments during the yearlong mission.
Since astronauts began occupying the space station in 2000, most crews have spent less than six months aboard the outpost. The record for an International Space Station flight is Expedition 14, a 215-day flight by NASA astronaut Michael Lopez-Alegria and Mikhail Tyurin in 2006 and 2007.
Lopez-Alegria holds the mark for the longest spaceflight by a U.S. astronaut to date.
The yearlong expedition will allow for greater study of the effects of long-duration spaceflight on bone density, muscle mass, strength, vision and other aspects of human physiology, according to NASA.
"Selection of the candidate for the one year mission was thorough and difficult due to the number of suitable candidates from the Cosmonaut corps," said Vladimir Popovkin, head of Roscosmos - the Russian space agency. "We have chosen the most responsible, skilled and enthusiastic crew members to expand space exploration, and we have full confidence in them."
Valery Polyakov, a Russian physician, spent 437 days in orbit aboard the Mir space station in 1994 and 1995, setting the record for the longest single spaceflight.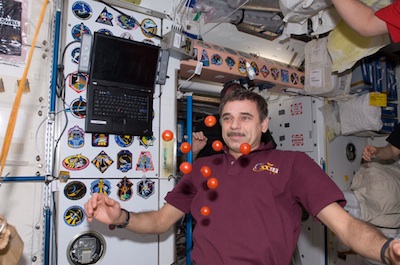 Kornienko aboard the International Space Station in 2010. Credit: NASA

NASA and Roscosmos announced in October they would fly an astronaut and cosmonaut for a 12-month expedition. The agencies unveiled their assignments Monday.
Kelly, 48, is a three-time flier and has logged 180 days in space, including a five-month residency on the International Space Station in 2010 and 2011. His space station mission included stint as Expedition 26 commander.
He also served as pilot of space shuttle Discovery on a repair mission to the Hubble Space Telescope in 1999, and as commander of space shuttle Endeavour on a space station assembly flight in 2007.
The U.S. Navy captain is from Orange, N.J., and has degrees in electrical engineering and aviation systems from the State University of New York Maritime College and the University of Tennessee in Knoxville. His twin brother, Mark Kelly, is a four-time space shuttle pilot and commander.
Kornienko, 52, is from Syzran in southern Russia's Samara region. After serving as a Russian paratrooper, he obtained an engineering degree from the Moscow Aviation Institute and was selected as a cosmonaut in 1998.
He flew on the International Space Station for 176 days in 2010 as part of the Expedition 23 and Expedition 24 crews.
NASA said Kelly and Kornienko will begin a two-year training program in early 2013.