European ministers decide to stick with Ariane 5, for now
BY STEPHEN CLARK
SPACEFLIGHT NOW
Posted: November 21, 2012


Reaching a consensus that at times seemed improbable, Germany, France and other European countries on Wednesday agreed to upgrade the Ariane 5 rocket and advance the design of its replacement - a smaller, simpler, and less expensive launcher predicted to be flight-ready by 2021.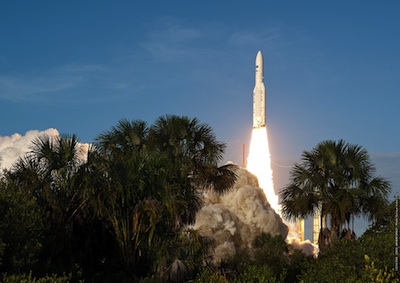 File photo of an Ariane 5 rocket launch. Credit: CNES/ESA/Arianespace

European space officials said the decision reached Wednesday at a two-day meeting of the European Space Agency's council of ministers helps ensure the continent's access to space through the 2030s.
The Ariane 5 upgrade, called mid-life evolution, will boost the rocket's lift capacity by 20 percent with a new restartable hydrogen-fueled upper stage engine. It also features a lengthened payload fairing to enshroud larger satellites.
The upgraded launcher's new Vinci upper stage engine would also be used to power the second stage of a new Ariane 6 rocket - an important negotiating point for France, which demanded development of a fresh launcher begin immediately.
"We are entering into a new phase of Ariane," said Jean-Jacques Dordain, ESA's director general.
Germany favored continuing work on the Ariane 5 mid-life evolution project, which has already consumed about 400 million euros, or more than $500 million. There was not enough money to simultaneously pursue the development of both launchers.
Representatives of ESA's 20 member states met in Naples, Italy, until well after midnight Wednesday, deciding which path to take and what nations would pay for it.
The two nations bridged the divide - considered by many to be the most contentious issue of the Naples summit - by opting to proceed with the upgraded Ariane 5 launcher and incorporate that work into Ariane 6.
The two-year spending package commits about 600 million euros, or $770 million, to launcher development. France is the leading European contributor for launchers, followed by Germany.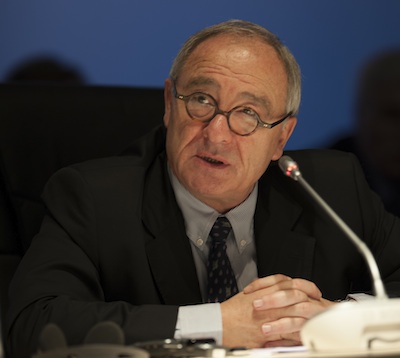 ESA director general Jean-Jacques Dordain. Credit: ESA/S. Corvaja

In total, ESA member states agreed on 10 billion euros - about $13 billion - for space spending over the next few years.
ESA member states will convene again in mid-2014 to commit funding for full development of the Ariane 6 rocket, which is forecast to begin flying around 2021.
"Ariane 5 will be here another 12 years, so this is why we must work on [upgrading] Ariane 5," Dordain said.
The Ariane 5 rocket is one of the most reliable launch vehicles in the world, launching about a half-dozen times per year with commercial communications satellites or European government payloads.
The current version of the launcher, called the Ariane 5 ECA, can lift up to 10 metric tons, or about 22,000 pounds, into geostationary transfer orbit, the drop-off point for most communications satellites. The heavy-lift Ariane 5 ECA can launch two large commercial satellites on a single launch.
The first launch of the evolved Ariane 5 rocket - known as the 'adapted Ariane 5 ME' - is scheduled for 2017 or 2018. The 'adapted' nomenclature reflects possible changes from the baseline design of the upgraded Ariane 5 to better align the mid-life evolution work with the Ariane 6 program.
"We are particularly pleased that the ministers of the ESA member states have secured investment for the definition study of the new Ariane 6 launcher and for continued development of the Ariane 5 ME," said Francois Auque, CEO of EADS Astrium, prime contractor for the Ariane 5. "These future versions will benefit from the know-how and commitment of the women and men of Astrium, who have made Ariane 5 the most reliable launcher currently on the market."
Dordain said industry studies over the next 18 months would find more commonalities between Ariane 5 and Ariane 6, with the goal to reduce the development and operating costs of the new launcher, which is expected to be in service through the 2030s.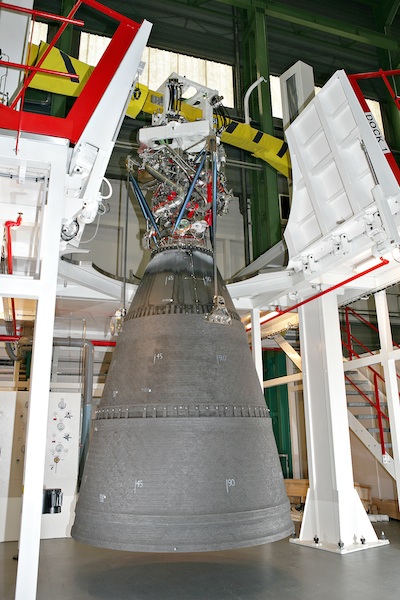 Photo of a Vinci engine ground test article. The restartable Vinci engine features an extendable nozzle to improve performance. Credit: Snecma

"There is a significant common part, which is the [Vinci] engine," Dordain said. "The engine and propulsion system will be the same. That is done, but I have to work and see if and how I can develop more commonalities between the two launchers."
The Ariane 5 rocket will remain operating until the mid-2020s, retiring from service once the Ariane 6 launcher has proven itself reliable.
Germany stands to receive the lion's share of industrial work on the Ariane 5 mid-life evolution project. An EADS Astrium planet in Bremen, Germany, assembles the Ariane 5 upper stages, while French propulsion contractor Snecma is in charge of the new Vinci engine, which will generate 40,000 pounds of thrust.
More importantly, ESA officials said, is the Vinci engine's ability to restart in flight, enabling the Ariane 5 to efficiently reach different types of orbits with heavier satellites. The Ariane 5's current cryogenic upper stage can only ignite once.
Astrium also claims the evolved Ariane 5 will reduce the cost-per-kilogram of each launch by up to 20 percent. ESA hopes to reduce, or even eliminate, government subsidies to Arianespace, Ariane 5's commercial operator, which received about $190 million from ESA to break even on its balance sheet in 2011.
"It's always been the intention that the Ariane 5 ME implementation will make subsidies obsolete," said Marco Fuchs, chief executive of OHB AG, which supplies Ariane 5 propellant tanks. "That is the intention of the companies involved in Ariane 5."
European officials, including Arianespace, ESA and Ariane contractors, tout the Ariane 5's record of success, which has now achieved 52 straight successful launches since 2002.
But the competitive threat from Russian and Chinese launchers and SpaceX, the innovative U.S. commercial space firm started by Elon Musk, compelled Europe to consider an alternate future for the Ariane program.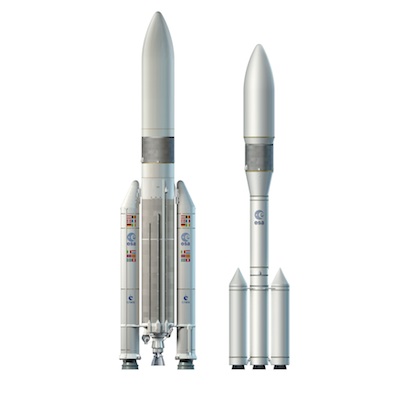 Comparison of the Ariane 5 mid-life evolution and a concept for the Ariane 6 rocket. Credit: ESA

"The development of adapted Ariane 5 ME is to improve the competitiveness," Dordain said. "One of the problems we have today with Ariane 5 ECA is the upper stage is not restartable. That is a limitation vis-a-vis the market."
SpaceX has signed a handful of communications satellite launch contracts for its Falcon 9 rocket before the vehicle has ever flown into an orbit used by commercial satellites.
SpaceX advertises commercial launch opportunities for its Falcon 9 rocket for $54 million. Even launching two satellites at once, a payload slot on a standard Ariane 5 mission costs more than $100 million, according to industry sources.
In an interview last week with the BBC, Musk said Europe's Ariane 5 rocket has "no chance" competing with the Falcon 9 and said Europe should build a new launcher.
In a press conference Wednesday, Dordain countered with dry humor.
"Does this mean Elon Musk wants to contribute to Ariane 6? I don't know," Dordain said. "I must say we are more than ready to have additional contributors."
The challenge for rocket designers in the next 18 months is to come up with a formula for a reliable Ariane 6 rocket tailored to replace both the Ariane 5 and Europe's use of the Russian Soyuz booster at the European-run Guiana Space Center in Kourou, French Guiana.
The intermediate-class Ariane 6 launcher will be smaller than the Ariane 5, launching single commercial communications payloads of up to 14,000 pounds.
And the Ariane 6 should be competitive on price with SpaceX's Falcon 9 rocket and Russia's Proton launcher marketed by International Launch Services, Arianespace's two main rivals.
An initial design assessment by CNES - the French space agency - this year concluded the Ariane 6 rocket should consist of a solid-fueled first stage motor and a cryogenic liquid-fueled upper stage based around the next-generation Ariane 5's Vinci engine.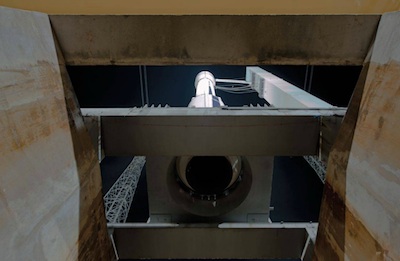 File photo of a Vega rocket, showing its solid-fueled first stage. Credit: ESA

The concept would build upon both the Ariane 5 and lightweight Vega satellite launcher, which debuted in February and is powered by solid rocket motors. Such a design would ensure high industrial involvement from France, Germany and Italy, the three largest contributors to Europe's rocket programs.
"At the moment, we see synergies between both Ariane 5 and Ariane 6, as well as Vega and Ariane 6," said Enrico Saggese, president of the Italian Space Agency, in an interview Wednesday.
Return-on-investment in the form of industrial contracts and jobs is one of the most important factors guiding decisions on European space programs.
"The example of SpaceX shows that if you're producing everything at one location, its much more efficient," said Johann-Dietrich Woerner, chairman of the executive board of the German Aerospace Center. "But then it's no longer a European launcher. It's a French or German launcher. Therefore, the discussion about industrial distribution is one of the core questions for the next launcher in Europe. It's hard stuff."
ESA officials have not made a final decision on the design of Ariane 6.
"If this is the final design, then the heritage will come from Vega and Ariane 5 to Ariane 6, so there will be much commonality," Woerner told Spaceflight Now on Wednesday. "That makes the development of the new launcher as efficient as possible."