Air Force receives bids for debris-tracking Space Fence
BY STEPHEN CLARK
SPACEFLIGHT NOW
Posted: November 14, 2012


Lockheed Martin and Raytheon have submitted bids to the U.S. Air Force for construction of a network of radars to scan the sky and detect small fragments of space debris with unprecedented precision.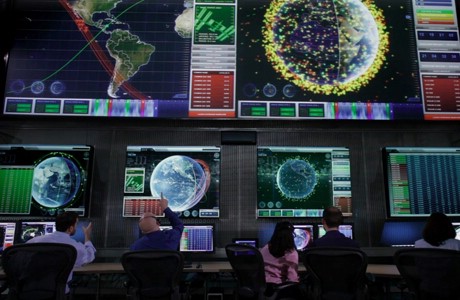 Photo of Lockheed Martin's Space Fence prototype control center. Credit: Lockheed Martin

The defense contractors are competing for a contract worth up to $3.5 billion to build the radars under the Air Force's Space Fence program, which aims for a ten-fold improvement in space tracking capability over the Air Force Space Surveillance System radar network, which has been operational since 1961.
The Air Force has paid each company $137 million since 2009 to work on designs for the Space Fence. Lockheed Martin and Raytheon developed working prototype radars to demonstrate the concepts could detect objects in space.
"Raytheon's Space Fence solution will track more than 150,000 pieces of unaccounted space debris that threaten manned space flight and the satellites we all rely on for many critical services, including accurate weather forecasts, navigation and financial transactions," said David Gulla, Raytheon vice president of global integrated sensors.
The first Space Fence radar will be based at Kwajalein Atoll in the Marshall Islands. The military plans to build at least one other Space Fence radar installation, but officials have not announced a site for the second facility.
The S-band radars will feed data to the military's Joint Space Operations Center. The center tracks objects in space and issues collision threat notices to global satellite operators, which can move their spacecraft out of the way if notified in time.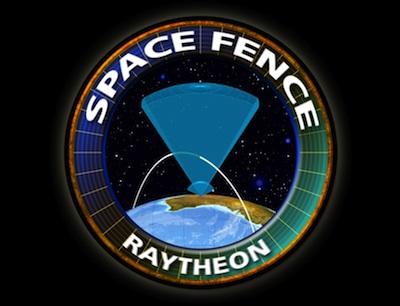 Credit: Raytheon

"The original surveillance system wasn't designed to detect and track the hundreds of thousands of smaller, orbiting objects that are in space today, potentially threatening the International Space Station, future manned space flight missions and our nation's critical satellite assets," said Steve Bruce, vice president for space surveillance systems at Lockheed Martin. "With decades of experience developing powerful S-band radar systems, Lockheed Martin has proposed a scalable and affordable Space Fence solution for the Air Force that will transform space situational awareness."
The Air Force currently tracks about 20,000 objects in space, and hundreds of thousands more fragments fly around Earth undetected. The Space Fence's greater sensitivity - enough to find a softball flying 1,200 miles above Earth - could give the Air Force the ability to track up to 200,000 objects.
Military officials expect to select a winner by January, and construction will begin in late 2013. The Air Force expects initial operating capability of the Space Fence program in 2017, followed by full deployment in 2020.