UK government pledges more funding for space programs
BY STEPHEN CLARK
SPACEFLIGHT NOW
Posted: November 12, 2012


The British government on Friday said it would commit an extra $100 million in annual space expenditures to fund technological development of next-generation communications and weather satellites.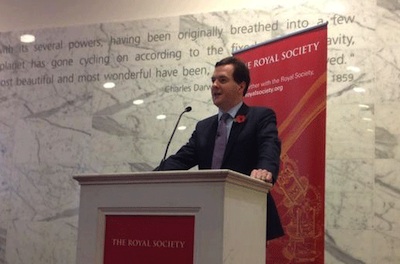 UK finance minister George Osborne unveiled the British space spending increases on Friday at the Royal Society in London. Credit: Office of the Chancellor of the Exchequer

The increased spending comes as other European governments struggle to come up with additional funding ahead of a meeting of the European Space Agency's member states in Italy next week.
British officials said they would target the investments in strategic developments of commercial telecommunications, weather monitoring, and robotics programs.
In a speech Friday at the Royal Society in London, Chancellor of the Exchequer George Osborne announced the British government would raise its contributions to the European Space Agency to 240 million British pounds, or $381 million, per year over the next five years.
The proposed funding represents an annual increase of 60 million British pounds, or about $100 million.
"This increase will bring the UK's total investment in the European Space Agency to an average of 240 million pounds per year over the next five years," said David Willets, the British minister for science and universities. "This will allow the UK to play a leading role in the next phase of European space collaboration. It will drive growth, create extra skilled jobs and help the UK to realize its ambition to have a 30 billion pound space industry by 2030."
Willets will negotiate European spending priorities with representatives from other ESA member states during a two-day meeting of European government ministers opening Nov. 20 in Naples, Italy.
During the Ministerial meeting, officials will decide ESA's priorities for the next four years. Major decisions are expected on European launch vehicles, space exploration, scientific probes, and navigation and weather satellites.
The UK government unveiled the fresh space spending as it seeks cuts and tax increases in an austerity budget.
Osborne said the UK's growing 9.1 billion pound, or $1.4 billion, space industry is growing at more than 8 percent per year, and more government investment will sustain or accelerate the growth.
"The UK gains great scientific and industrial benefits through being a strong but selective partner in the European Space Agency," Osborne said. "We engage particularly strongly in a number of areas of high added value including telecoms, Earth observation and meteorological satellites."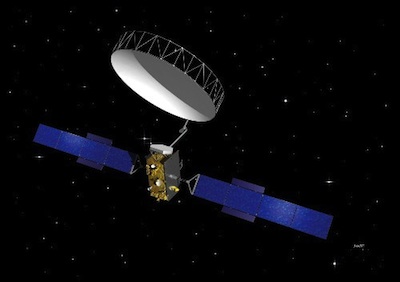 Artist's concept of Alphasat, a next-generation communications satellite jointly developed between ESA and industry. Credit: ESA

ESA announced it would relocate the agency's telecommunications program headquarters to an ESA research center in Harwell, Oxfordshire, creating more than 100 new high-tech jobs.
"With this substantial increase in investment, the UK is helping to promote competition in and encourage the growth of the European space sector by developing space capacities in the UK," said Jean-Jacques-Dordain, ESA's director general. "In addition to the increased use of UK industry, our commitment to growing ESA's facility here in Harwell confirms that the UK Space Agency is taking up more of a leadership role in key parts of the space sector."
Britain is the fourth-largest contributor to ESA, after France, Germany and Italy.
"By pledging an extra 300 million pounds over the next five years, we can put the UK in a leadership role for several major ESA projects," said David Williams, head of the UK Space Agency. "That will ensure that UK industry continue to win lucrative space contracts over the next 5 to 10 years and build on the momentum of the UK's flourishing space sector."
UK industry builds payloads for communications satellites and small spacecraft platforms, and the government investment will be targeted to develop a new-generation communications satellite platform and on commercial applications, officials said.
"We have shown a great return to the UK on our collaborative telecom R&D with government, this multi-year investment gives us the confidence to continue investing, particularly in satellite communications which offer great potential for growth in the years to come," said Colin Paynter, chief executive of Astrium UK, in a statement.