Chinese space plans gain focus in Communist conclave
BY STEPHEN CLARK
SPACEFLIGHT NOW
Posted: November 11, 2012


China's next human space mission will launch in June and dock with the orbiting Tiangong 1 space lab, and construction of the first Chinese lunar rover is on pace for launch in the second half of 2013, according to state media reports.

Artist's concept of a Shenzhou spacecraft docked with the Tiangong 1 space lab. Credit: CNSA

The next crewed spaceflight will include three astronauts and last for about 15 days, according to the state-run Xinhua news agency, which on Saturday quoted the deputy commander of China's manned space program on the sidelines of this week's Communist Party congress in Beijing.
The ruling party assembly will shepherd the country through a once-in-a-decade power transfer. Chinese vice president Xi Jinping is expected take over China's top leadership post from Hu Jintao, who has been at the helm since 2003.
On Sunday, Xinhua reported China will launch its first robotic moon lander in the second half of 2013. The Chang'e 3 mission, which follows two Chinese moon orbiters, will make a rocket-assisted landing and deploy a small nuclear-powered rover.
The upcoming manned flight, named Shenzhou 10, will be China's fifth human space mission. Like the Shenzhou 9 mission, which flew in June, the next flight might include two male astronauts and a woman, according to Niu Hongguang, deputy commander of China's human space program, who was quoted in Xinhua.
China's first female astronaut was on the Shenzhou 9 crew. China will select the Shenzhou 10 crew members next year, Niu said.
"They will stay in space for 15 days, operating both automated and manual space dockings with the target orbiter Tiangong 1, conducting scientific experiments in the lab module and giving science lectures to spectators on the Earth," Niu said.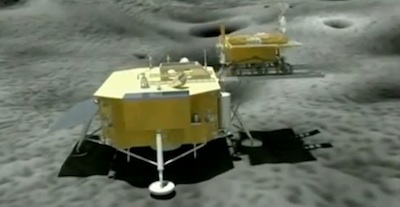 Artist's concept of the Chang'e 3 moon lander and rover. Credit: CCTV

Tiangong 1 was launched in September 2011 to serve as a trailblazer for a Chinese space station.
An unmanned Shenzhou craft launched one month later and accomplished China's first automated docking in orbit. Shenzhou 9 followed in June and completed two dockings - one on autopilot and another under the manual control of astronaut Liu Wang, a pilot in the Chinese Air Force.
When docked together, the Shenzhou spacecraft and Tiangong 1 form a complex measuring 13 feet in diameter and more than 60 feet long, larger than a double-decker bus.
Tiangong means heavenly palace in English, while Shenzhou is translated as divine craft.
The Shenzhou 10 mission is scheduled to be the last flight to Tiangong 1, and China is developing an upgraded module for launch in 2014 to host astronaut crews for longer periods.
A third Tiangong laboratory will launch around 2015 to support crews for 40-day stays and test renegerative life support systems.
China plans to launch a multi-module complex the size of Russia's Mir space station by 2020.
China's next-generation of Long March rockets, which are required to launch the space station modules into orbit, will begin flying in 2014 from the new Wenchang space center on Hainan Island, officials said.