DigitalGlobe, GeoEye plan smaller satellite fleet
BY STEPHEN CLARK
SPACEFLIGHT NOW
Posted: November 10, 2012


The merger of DigitalGlobe and GeoEye, the two leading commercial imagery suppliers to the U.S. intelligence community, will save the companies up to $1.5 billion by streamlining operations, shrinking their satellite constellations, and deferring the launch of a new spacecraft, officials said.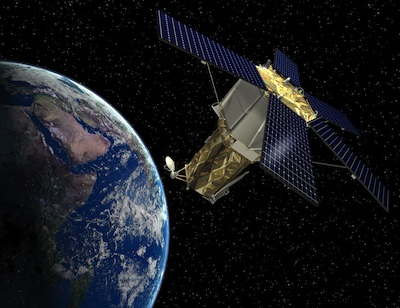 Artist's concept of the GeoEye 2 satellite. Credit: GeoEye

Managers expect the deal to close late this year or in early 2013, and one of the first actions of the combined company - which will retain the name DigitalGlobe - will likely be delaying the launch the GeoEye 2 high-resolution imaging satellite, which is due for liftoff on a United Launch Alliance Atlas 5 rocket in 2013.
The merger, which was announced in July, still requires the approvals of the U.S. Justice Department and the shareholders of both companies. NOAA and the Federal Communications Commission are also overseeing the transfer of operating licenses from the companies to the new combined firm.
"In anticipation of closing at the end of this year or early next year, we've been hard at work creating a detailed integration plan," said Jeffrey Tarr, DigitalGlobe's president and CEO, in a quarterly earnings call on Oct. 30. "Teams at both companies have validated synergies in excess of $1.5 billion and have mapped out detailed plans to capture them."
Two-thirds of the savings will come from unifying the GeoEye and DigitalGlobe satellite fleets, according to Yancey Spruill, DigitalGlobe's chief financial officer.
Instead of developing and launching up to five new satellites before 2020, the new company will budget for three spacecraft, Spruill said. Two of those satellites are already being built and will wrap up construction within the next 18 months.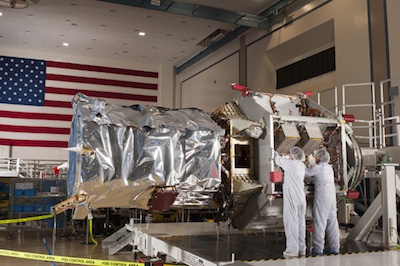 Photo of the GeoEye 2 satellite under construction at Lockheed Martin Corp. Credit: GeoEye

Before the merger, GeoEye and DigitalGlobe separately initiated development of the GeoEye 2 and WorldView 3 satellites, which are due for liftoff in 2013 and 2014, respectively.
"Both GeoEye and DigitalGlobe have a satellite under construction," Spruill said. "We will launch one of those satellites either in 2013 or in 2014."
The other spacecraft will stay on the ground as a ready spare until it is needed to replace WorldView 1, one of DigitalGlobe's current satellites, around 2018, according to Spruill.
GeoEye 2 is under construction at Lockheed Martin Corp. in Sunnyvale, Calif., and WorldView 3 is being built by Ball Aerospace & Technologies Corp. of Boulder, Colo.
Officials have not made a final decision whether to delay GeoEye 2 or WorldView 3, but WorldView 3 is designed to gather higher-resolution imagery and features a shortwave infrared imaging capability, which GeoEye 2 will not provide.
Spruill said the combined company's capital expenditures will drop from nearly $500 million to about $40 million after 2014 until development of a new satellite begins late this decade for launch around 2021.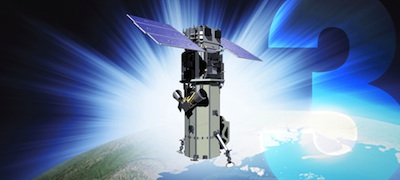 Artist's concept of the WorldView 3 satellite. Credit: DigitalGlobe

Current DigitalGlobe shareholders will own 64 percent of the new combined company, while GeoEye shareholders will control 36 percent. The firm will be based at DigitalGlobe's current headquarters in Longmont, Colo.
DigitalGlobe and GeoEye decided to merge after budget cuts forced the U.S. National Geospatial-Intelligence Agency to scale back a planned 10-year contract with the companies.
The EnhancedView contract provides funding for imagery purchases, plus investments for new satellite construction. Faced with budget cutbacks, NGA informed GeoEye in June its contract would not be renewed in full in the second year of EnhancedView, hastening the merger agreement. DigitalGlobe expects to continue to receive full EnhancedView funding.
NGA provides satellite and airborne imagery from private and government-owned platforms to military users. GeoEye and DigitalGlobe satellites supplement the government's secretive constellation of even more powerful imaging spacecraft.