MDA, Loral see U.S. fiscal crisis as market opportunity
BY STEPHEN CLARK
SPACEFLIGHT NOW
Posted: November 8, 2012


MDA Corp. of Canada, fresh off the purchase of U.S.-based satellite-builder Space Systems/Loral, is moving to capture a piece of the U.S. government satellite market as tightening budgets drive military operators toward more cost-effective solutions, company leaders said this week.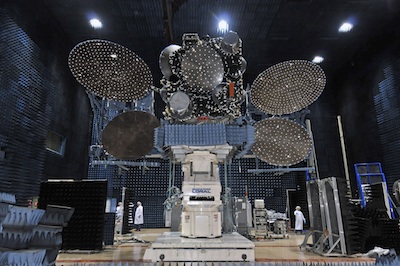 File photo of the SES 5 communications satellite undergoing testing at the Space Systems/Loral factory in Palo Alto, Calif. Credit: Space Systems/Loral

The Canadian contractor has seen attempts to penetrate the U.S. market stymied by its lack of a significant presence in the United States, but with the acquisition of Space Systems/Loral, its more than 3,000 employees, and a high-tech satellite plant in California, MDA is poised to make a run at valuable U.S. contracts, officials said.
"We now have almost 4,000 employees in the U.S. and some world-class facilities to build almost anything, and we should be able to finally access that market," said Daniel Friedmann, MDA's president and CEO, in a conference call with investment analysts on Monday.
The companies announced MDA's planned purchase of Space Systems/Loral from Loral Space and Communications Inc. in June. The deal closed on Nov. 2 and was valued at more than $1 billion, according to Anil Wirasekara, MDA's executive vice president and chief financial officer.
"With Space Systems/Loral, we are gaining a stable and experienced workforce consisting of some of the best engineers and technicians in the industry, and a physical facility where we can produce a variety of complex and large satellites and systems," Friedmann said.
Space Systems/Loral is one of the world's top commercial satellite builders, having manufactured more than 240 satellites since 1960. The Palo Alto, Calif.-based firm has more communications satellites in geosynchronous orbit today than any other company, according its website.
The satellite-builder will continue to go by the name Space Systems/Loral, according to Wendy Lewis, an SS/L spokesperson.
"The transaction also gives us a critical mass in the U.S., one of the world's largest markets for our capabilities, finally opening the door for our traditional business in surveillance, intelligence and robotics," Friedmann said.
According to MDA, the acquisition of Space Systems/Loral doubles the company's commercial portfolio and makes possible larger deals with the Pentagon and NASA.
Friedmann sees the U.S. government's austere budget outlook as a growth opportunity for Space Systems/Loral.
"The government cutbacks being faced in the U.S. are forcing people to think differently and to look at commercial solutions, so we see a major opportunity for us in the government market, where we can offer commercially-based solutions which are more cost-effective," Friedmann said. "It's hard to get people's attention when the budgets are in good shape, but now we're getting lots of attention."
Space Systems/Loral won a $10.1 million contract with the U.S. Air Force last month to study modifying existing commercial designs for next-generation protected military satellite communications. Friedmann pointed to the win as an example of expanding opportunities for MDA and Space Systems/Loral in the U.S. government market.
According to Friedmann, over the last few months, MDA has identified more than 100 new bidding opportunities with about 50 U.S. government agencies.
MDA developed and built the International Space Station's primary robotics systems, including the lab's 58-foot mechanical arm and Dextre, a robotic handyman designed to complete repairs and chores outside the complex. MDA is also providing robotics capabilities to the U.S. Defense Department's Phoenix satellite servicing program.
"We have a very strong position in the U.S.," Friedmann said. "We are their No. 1 robotics supplier. We are one of their key suppliers of radar data for surveillance."
While MDA has achieved some financial success in international partnerships through the Canadian Space Agency, it has struggled to obtain big contracts directly with U.S. government agencies.
Friedmann said MDA has an agreement in principle with the U.S. government for a Special Security Agreement, which is required for a foreign-owned, U.S.-based firm to perform work on certain contracts, such as classified programs. The Special Security Agreement should be formalized by the end of 2012, according to Friedmann.
"We are operational from day one to do business with the U.S. government out of Space Systems/Loral at any level we need to do," Friedmann said.