China's Beidou navigation system gets new satellite
BY STEPHEN CLARK
SPACEFLIGHT NOW
Posted: October 25, 2012


China deployed its 16th satellite Thursday for the growing Beidou navigation system, moving the network closer to the inauguration of full service in the Asia-Pacific region, according to state media.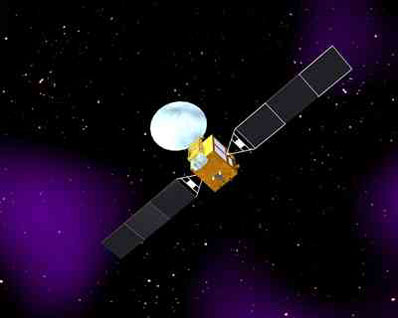 Artist's concept of a Beidou satellite. Credit: China Academy of Space Technology

The Beidou satellite launched aboard a Long March 3C rocket at 1533 GMT (11:33 a.m. EDT) from the Xichang space center in southwestern China's Sichuan province, according to the Xinhua new agency.
Liftoff occurred at 11:33 p.m. Beijing time.
Powered by two liquid-fueled strap-on boosters and a first stage engine, the three-stage launcher climbed away from the space base and turned on an easterly heading.
The rocket's cryogenic third stage was supposed to place the Beidou satellite in an elliptical geosynchronous transfer orbit, and Chinese officials reported the launch was successful.
The spacecraft will use on-board thrusters to reach an operational position in geostationary orbit over the equator.
China has launched six Beidou satellites in 2012, placing four craft in medium Earth orbit about 13,000 miles high and two geostationary orbit platforms in space, including Thursday's mission.
The Beidou navigation constellation, also known as Compass, is China's counterpart to the U.S. Air Force's GPS program. Russia and Europe are also developing independent space navigation capabilities.
The Beidou system will consist of 35 satellites to provide global navigation coverage by 2020, according to Chinese officials.
China activated the network on a trial basis for government and military users in December 2011, and Xinhua reported the Beidou system will offer free civilian services over the Asia-Pacific region by the first half of 2013.
The system has been used in transportation, weather forecasting, marine fisheries, hydrological monitoring, and mapping, according to Xinhua.
Beidou managers say the constellation will provide positioning services with an accuracy of 10 meters, or about 33 feet, speed estimates within less than one foot per second, and time measurements within 10 nanoseconds.
Thursday's blastoff marked the 15th space launch of the year for China.