Start-up space firm tests pusher escape system
BY STEPHEN CLARK
SPACEFLIGHT NOW
Posted: October 22, 2012


Blue Origin completed a launch pad abort demonstration of its pusher escape system last week, notching the final milestone in a cost-sharing development agreement with NASA's commercial crew program, the company announced Monday.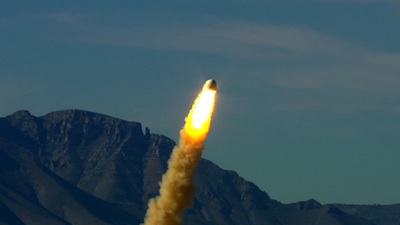 Rocket motors propel Blue Origin's prototype space capsule into the sky over West Texas. Credit: Blue Origin

Designed to facilitate full reusability of Blue Origin's suborbital New Shepard spacecraft, the pusher-type abort system lifted a full-scale crew capsule to an altitude of 2,307 feet in a simulated escape from a launch pad emergency.
The capsule parachuted to a soft landing 1,630 feet away from the launch site, according to Blue Origin, the start-up space firm established by Amazon.com founder Jeff Bezos.
The test occurred at Blue Origin's facility near Van Horn, Texas.
"The first test of our suborbital crew capsule is a big step on the way to safe, affordable space travel, "Bezos said in a press release. "This wouldn't have been possible without NASA's help, and the Blue Origin team worked hard and smart to design this system, build it, and pull off this test. Lots of smiles around here today."
The abort system will provide passengers on the suborbital New Shepard vehicle with an escape capability throughout the launch sequence, and it also will inform the design of the escape system on Blue Origin's orbital spacecraft.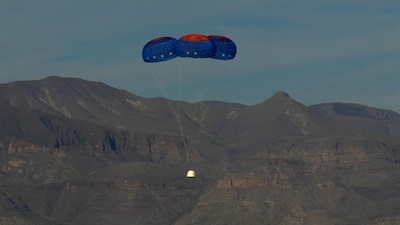 The capsule parachutes back to a gentle landing. Credit: Blue Origin

Last week's test flight was the final milestone outlined in a $22 million agreement in the second, or CCDev 2, phase of NASA's commercial crew program. Blue Origin received $3.7 million in the first round of commercial crew agreements, which began in 2010.
"The progress Blue Origin has made on its suborbital and orbital capabilities really is encouraging for the overall future of human spaceflight," said Ed Mango, manager of NASA's commercial crew program. "It was awesome to see a spacecraft NASA played a role in developing take flight."
Earlier in October, Blue Origin fired the thrust chamber for its 100,000-pound thrust hydrogen-fueled BE-3 rocket engine designed for the company's reusable booster. The test firing was conducted under the firm's CCDev 2 agreement with NASA.
The space agency issues monetary awards to companies in the commercial crew program as they achieve design and testing milestones.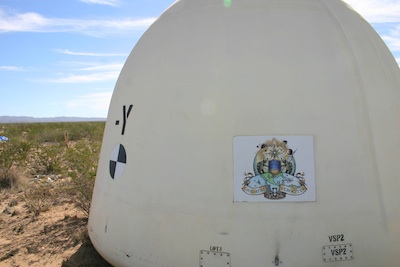 The full-scale capsule prototype back on the ground after a successful test flight. Credit: Blue Origin

Blue Origin's pusher escape design is different than traditional tractor abort systems, which feature rocket motors on a tower mounted above spacecraft to pull astronauts away from a launch emergency.
The Saturn 5 moon rocket employed a tractor-style escape system, and Russia's Soyuz launcher still uses a top-mounted abort system for crewed flights.
The three firms still competing to provide NASA with commercial crew transportation services by 2017 - Boeing Co., SpaceX and Sierra Nevada Corp. - plan to use pusher-type escape systems on their piloted spaceships.
Blue Origin did not submit a proposal to win government funding in the Commercial Crew Integrated Capability, or CCiCap, phase of the program, in which Boeing, SpaceX and Sierra Nevada will continue developing spacecraft for human missions to the International Space Station.