GOES 13 weather satellite returned to service
BY STEPHEN CLARK
SPACEFLIGHT NOW
Posted: October 18, 2012


NOAA restored the GOES 13 weather satellite to full operations Thursday after correcting an anomaly in the craft's sounding instrument, which knocked the critical observatory out of service in September.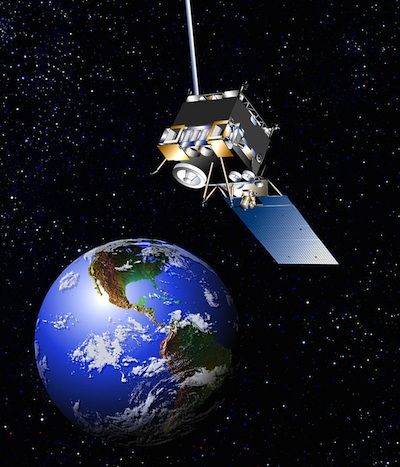 Artist's concept of the GOES 13 satellite. Credit: Boeing Co.

According to an update on NOAA's website, the satellite was inserted back into the two-satellite operational GOES constellation at 1444 GMT (10:44 a.m. EDT) Thursday by controllers at the agency's control center in Suitland, Md.
GOES 13, which is located in geostationary orbit at 75 degrees west longitude, was put in standby mode Sept. 23 after noise appeared in imaging and atmospheric sounding data from the satellite.
A backup satellite named GOES 14 took over operational duties covering the U.S. East Coast and the Atlantic Ocean while engineers from NOAA, Boeing Co. and ITT Exelis investigated the problem.
According to NOAA, the trouble was caused by a vibration from aging lubricant in the sounder instrument, and engineers devised an "outgas" procedure to improve the data.
"For GOES 13 and its sister satellites, we now have an early detection process that will enable us to take early action to prevent a similar occurrence in the future," said John Leslie, a NOAA spokesperson.
Leslie said the anomaly in the sounder filter wheel will have no lifetime effect on the instrument. GOES 13 launched in May 2006 and is designed for a 10-year life.
NOAA's Geostationary Operational Environmental Satellite, or GOES, system consists of two spacecraft providing near-real-time imagery of clouds and weather systems over the Western Hemisphere. One satellite over the Pacific Ocean is in the GOES West position, and another observatory in the GOES East location covers the Atlantic Ocean.
Earlier this month, controllers began moving GOES 14 toward the GOES East position at 75 degrees west in case GOES 13 could not be quickly returned to service.
GOES 14 will return to its role as a spare in the GOES fleet, while GOES 15 continues its mission in the GOES West position, according to NOAA.
"The engineers have worked hard to understand and correct the problem, and now data from both the imager and sounder will flow shortly to our key user, NOAA's National Weather Service," said Mary Kicza, assistant administrator of NOAA's satellite and information service, before GOES 13's transition back into operations.