Expert team endorses design of private space telescope
BY STEPHEN CLARK
SPACEFLIGHT NOW
Posted: October 15, 2012


The design and objectives of the B612 Foundation's privately-funded asteroid-hunting space telescope are technically sound, according to an independent panel of industry and NASA experts commissioned to advise the project.
Based in Mountain View, Calif., the B612 Foundation aims to launch the Sentinel Space Telescope in 2017 to discover up to 500,000 near-Earth asteroids and map their trajectories.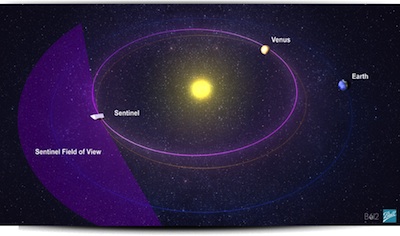 Diagram of the orbit of the Sentinel Space Telescope. Credit: Ball Aerospace/B612 Foundation

Established in 2002, the foundation's ultimate goal is to open the frontier of space exploration and protect humanity from asteroid impacts.
The foundation says the Sentinel Space Telescope is the first step, and officials unveiled the project in June.
On Thursday, the group announced the formation and initial findings of an independent advisory board consisting of experienced managers from NASA and industry.
The committee concluded the Sentinel mission design was technically sound, and the observatory will have a viable detection method for finding and tracking near-Earth asteroids, according to the B612 Foundation.
"Because the ultimate success of the Sentinel mission in finding and tracking threatening asteroids is so crucial to humanity, the B612 Foundation felt it was necessary to assemble one of the most experienced spacecraft technical teams on Earth to help it in its mission," said Ed Lu, former NASA astronaut and B612's chairman and CEO. "They will provide the B612 Sentinel team with the best possible unbiased critical evaluation of our plans, as well as ongoing technical advice"
NASA and the B612 Foundation signed a Space Act Agreement in June, in which the space agency will provide technical advice to the Sentinel project, while B612 will supply development and observation data to NASA.
NASA also agreed to provide navigation, data processing, and tracking and communications support to the Sentinel mission, which is estimated to cost several hundred million dollars.
"This is a major milestone in the development of Sentinel, and has validated the enormous amount of design and planning work that has already been carried out by Ball Aerospace," said Tom Gavin, chairman of the 11-person Sentinel review team.
Gavin is former director of solar system exploration at NASA's Jet Propulsion Laboratory.
The Sentinel spacecraft will be built by Ball Aerospace and Technologies Corp. in Boulder, Colo. Ball also constructed NASA's Wide-Field Infrared Survey Explorer, an Earth-orbiting satellite which surveyed for nearby asteroids during one phase of its mission.
The portion of WISE's mission dedicated to asteroid detection found 135 new near-Earth asteroids in four months. Sentinel aims to discover up to a half-million near-Earth asteroids in more than five years.
Like WISE, Sentinel will use infrared detectors to pinpoint the cool surfaces of asteroids against the background of space. But Sentinel will be positioned in a Venus-like orbit, allowing the telescope's aperture to peer outward from the sun, catching the glint of heat and sunlight to detect a larger number of undiscovered objects.
B612 plans to launch the mission on SpaceX's Falcon 9 rocket.
Using results from WISE, scientists estimate there are about 4,700 potentially hazardous asteroids, plus or minus 1,500, with diameters larger than 330 feet. Telescopes have only found between 20 and 30 percent of those objects.
PHAs are in orbits passing within five million miles of Earth, and the asteroids are large enough to survive passing through Earth's atmosphere to cause regional or global damage, according to NASA.