Famed soprano Sarah Brightman books Soyuz flight
BY STEPHEN CLARK
SPACEFLIGHT NOW
Posted: October 10, 2012


Sarah Brightman, famous soprano and a successful crossover artist, announced Wednesday she will soon begin training for a 10-day tourist trip to the International Space Station.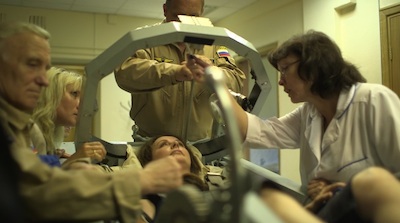 Brightman undergoing spaceflight assessments in Russia. Credit: Sarahbrightman.com

Brightman revealed she passed medical assessments this summer at the Russian cosmonaut training center near Moscow for a flight on a Russian Soyuz capsule.
The schedule for her launch has not been determined, but the launch date will be set "very soon" by Roscosmos and space station partners, Brightman said in a press conference held in Moscow.
The first available seat on a Soyuz mission is in 2015.
The tourist trip was arranged in a deal with Space Adventures of Vienna, Va., which negotiated the flight with the Russian space agency.
Space Adventures has booked Soyuz flights for seven clients since 2001. But Soyuz seats in recent years have been taken up by professional astronauts since the space station crew size increased to six full-time residents and the space shuttle's retirement left U.S. fliers with no other way to reach the complex.
But NASA and Russia announced last week an agreement to send a U.S. astronaut and Russian cosmonaut on a 12-month expedition to the space station in 2015. The year-long mission frees up two seats for potential tourist flights.
NASA and Russia could select and announce the crew for the 12-month mission in the next few weeks.
Eric Anderson, chairman of Space Adventures, said the price Brightman is paying for the Soyuz flight is confidential. In its latest contract with Russia, NASA pays about $63 million per round-trip seat on the Soyuz.
"I am determined that this journey can reach out to be a force for good, a catalyst for some of the dreams and aims of others that resonate with me," Brightman said.
Brightman is working with UNESCO on outreach projects during her mission, including promoting sustainable development and science and engineering education initiatives for girls and women.
"I can think of no better ambassador for the idea of human spaceflight than this incredible woman who can transmit and communicate emotion through music," Anderson said.