Engineers looking into cause of weather satellite anomaly
BY STEPHEN CLARK
SPACEFLIGHT NOW
Posted: September 26, 2012


A critical weather satellite assigned to monitor the East Coast of the United States and active hurricane zones in the Atlantic Ocean is out of commission, and NOAA officials are not sure when the spacecraft could be returned to service.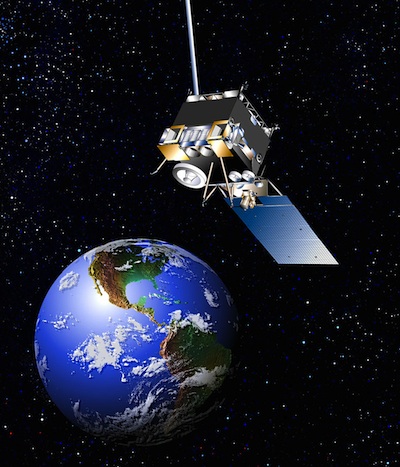 Artist's concept of the GOES 13 satellite. Credit: Boeing Co.

The GOES 13 satellite, stationed over the equator at 75 degrees west longitude, began showing noise in imaging and sounding data about two weeks ago.
The satellite's imager and sounder instruments were placed in standby mode Sunday.
Engineers rushed the GOES 14 spare satellite into duty to cover the Atlantic Ocean, Caribbean Sea and much of the U.S. East Coast.
John Leslie, a NOAA spokesperson, said Tuesday there was no decision yet to transfer GOES 14 from a storage location at 105 degrees west to GOES 13's location further east.
NOAA's Geostationary Operational Environmental Satellite, or GOES, system consists of two spacecraft to cover the Western Hemisphere. One satellite over the Pacific Ocean is in the GOES West position, and another observatory in the GOES East location covers the Atlantic Ocean.
GOES 13 is parked in the GOES East position.
Leslie said a team from NOAA, Boeing Co. and ITT Exelis were evaluating the problem on GOES 13. Boeing's satellite manufacturing division built the GOES 13 spacecraft, and ITT Exelis is the contractor for the GOES imaging and sounding instruments.
GOES 13 launched on a Delta 4 rocket in May 2006 and was designed for a 10-year operational lifetime.
All other systems on GOES 13 are healthy and the spacecraft is stable while engineers investigate the problem, according to NOAA.