Three-launch SES deal extends Falcon 9 backlog
BY STEPHEN CLARK
SPACEFLIGHT NOW
Posted: September 17, 2012


An agreement between SpaceX and SES for three communications satellite launches on Falcon boosters adds to a growing backlog of commercial flights for the launch firm, which is still developing rocket upgrades to handle the missions.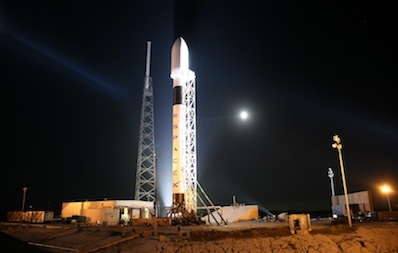 File photo of a Falcon 9 rocket on the launch pad. Credit: SpaceX



The deal - concluded under SES affiliate company SES-SL and announced last week - continues a series of Falcon launch agreements signed this year, and it raises the number of SES satellites assigned to SpaceX rockets to four.

The satellites, which have not yet been identified, will fly on Falcon 9 or Falcon Heavy rockets beginning in 2015.

"SES was the first leading commercial satellite operator to place a launch contract with SpaceX and we eagerly await the launch of SES 8 in 2013," said Romain Bausch, president and CEO of SES. "This new contract is testimony to our belief in SpaceX's product and technical abilities. It also confirms SES' priority for diversification of launch service providers and for securing timely access to space. We look forward to a long-term relationship with SpaceX."

The companies inked a deal in March 2011 to launch the SES 8 communications satellite in 2013. The SES 8 launch is scheduled to be SpaceX's first commercial launch into geosynchronous transfer orbit, or GTO, the drop-off point for satellites heading for orbit 22,300 miles over the equator.

Satellites in geostationary orbit hover over a fixed point on Earth and appear at the same point in the sky for antennas on the ground.

So far, SpaceX has not launched a rocket to geosynchronous transfer orbit. Three Falcon 9 flights to date have targeted low Earth orbit on demonstration missions for SpaceX's commercial cargo service to the International Space Station.

SpaceX is developing a Falcon 9 rocket with upgraded Merlin engines and a 17-foot-diameter payload fairing for commercial satellite launches. The new Falcon 9 version will also feature lengthened propellant tanks, further adding to its lift capacity, which SpaceX says will amount to approximately 10,700 pounds into geosynchronous transfer orbit.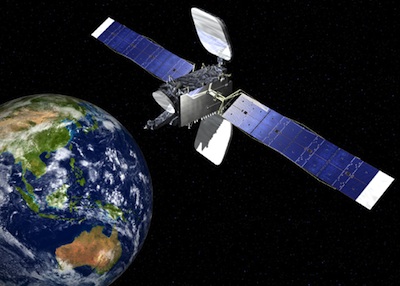 Artist's concept of SES 8, due to be the Falcon 9's first commercial geostationary mission. Credit: Orbital Sciences Corp.



The first flight of the evolved booster - called the Falcon 9 v1.1 - will carry the Canadian Space Agency's Cassiope communications and research satellite on the Falcon 9's inaugural launch in spring 2013 from Vandenberg Air Force Base, Calif.

The launch of SES 8 from SpaceX's launch pad at Cape Canaveral, Fla., will follow later in 2013, assuming the qualification flight from California is successful and close to schedule.

The SES contract signed in 2011 stipulates that SpaceX must complete a qualification flight of the new Falcon 9 rocket ahead of the launch of SES 8.

SpaceX also has a contract with Thaicom, an operator affiliated with the government of Thailand, for a Falcon 9 launch of its Thaicom 6 satellite in 2013.

Two satellites owned by AsiaSat of Hong Kong are booked for Falcon 9 flights in the first half of 2014. The AsiaSat contract was announced in February.

In March, Asia Broadcast Satellite and Satmex reserved two Falcon 9 rockets to launch four communications spacecraft with all-electric propulsion built by Boeing Co. The Asian and Mexican satellites will launch in 2014 or 2015.

Intelsat, the world's largest communications satellite operator, signed the first commercial contract for SpaceX's Falcon Heavy rocket in May. Intelsat has not identified payloads for the Falcon Heavy, a powerful booster in development by SpaceX to lift up to 60 tons into low Earth orbit.

NASA in July assigned the joint U.S.-European Jason 3 ocean research satellite to a Falcon 9 rocket for launch in 2014.