Solid rocket booster design test-fired for Delta 4
BY JUSTIN RAY
SPACEFLIGHT NOW
Posted: September 6, 2012


There was a powerful roar in Utah on Thursday as rocket testers fired one of the boosters used by Delta 4 vehicles for added thrust during launches of military communications satellites, reconnaissance spacecraft and the Global Positioning System.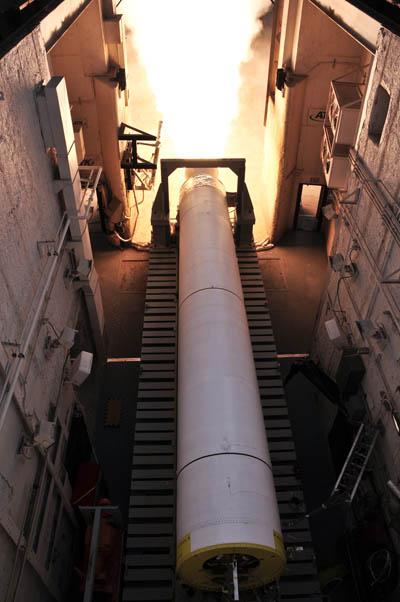 The solid motor is test-fired Thursday. Credit: ATK



ATK ignited the booster in a horizontal test-stand at 11:15 a.m. Mountain Time (1:15 p.m. EDT; 1715 GMT) as part of nozzle qualification efforts. The successful event built further confidence in the nozzle design that the aerospace company has made in-house to replace the previous nozzle hardware purchased from a subcontractor for production of the Delta 4 motors.

What's more, the solid-propellant packed in the test article was chilled to a core temperature of 30 degrees F to gauge performance under such cold conditions.

"This test further qualifies ATK's in-house capabilities in manufacturing commercial nozzles as flight ready," said Scott Lehr, vice president and general manager, ATK Aerospace Group, Defense & Commercial Division. "Utilizing ATK nozzles not only provides better value to our customer, it also helps further secure employment of our skilled workforce."

Thursday's test used a fixed-nozzle configuration that does not move during launch. A similar ground-firing on May 31 validated the steerable-nozzle version used on some motors that gimbal through hydraulics to help control the rocket in flight. The ATK-made nozzles are expected to begin launching in 2016.

Known as a Graphite Epoxy Motor 60, or GEM 60, these motors have been on 11 flights of United Launch Alliance Delta 4 rockets since 2002. In all, some 26 boosters have been flown with full successful.

"These ground tests are an important part of qualifying modifications and upgrades to flight hardware, as well as ensuring mission success on future flights," said Mark Wilkins, ULA's vice president of Program Operations.

ATK has performed 14 ground-tests of the motors over the years, a company spokeswoman said. Original development of the GEM 60s was completed in 2000 after a 29-month program. (See the ATK press release in our archive.)

Delta 4 rockets can use either two or four strap-on motors depending on the weight and targeted orbit of satellite payloads, providing the necessary thrust to propel the vehicle off the launch pad at Cape Canaveral and Vandenberg Air Force Base. The solids are larger, more powerful cousins to the Delta 2 and Delta 3 rockets.

File image of Delta 4 Medium+(5,4) with four GEM 60s. Credit: ULA



Burning 60,000 pounds of propellant in 95 seconds and producing approximately 280,000 pounds of thrust, each motor is attached to the first stage by a ball-and-socket design. After burnout, commands are issued from the rocket to jettison the expendable casings for disposal in the ocean below.

They are dubbed GEM 60s because they are 60 inches in diameter. The overall length is 53 feet.

Meanwhile, restart activities have began to resume production of the smaller GEM 40 boosters used on Delta 2 rockets. NASA recently purchased three upcoming launches of that venerable vehicle, and United Launch Alliance will need 15 solids to power the trio of missions.

Also from our archives, see our coverage from 2010 when ATK performed its final ground-test of a space shuttle solid rocket booster.