Hurricane forecasters eager for new tool in space
BY STEPHEN CLARK
SPACEFLIGHT NOW
Posted: August 31, 2012


Two satellites orbiting 22,300 miles above Earth kept Hurricane Isaac in their sights as it churned toward Louisiana, giving meteorologists clues on the storm's wandering course and intensity.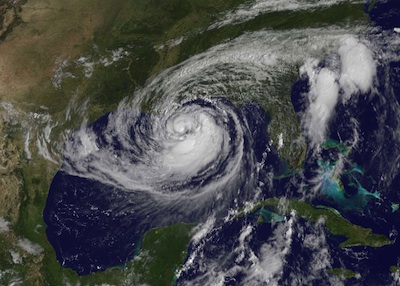 Hurricane Isaac. Credit: NOAA



One spacecraft - GOES 13 - was in place to cover the Atlantic, Caribbean and Gulf of Mexico, and another satellite was activated from standby mode and provided close-up high-resolution imagery scans once per minute.

Without the satellites, forecasters would have been unable to track the storm's movement or strength, putting countless more lives at risk from the hurricane's wrath.

Despite advancements in satellite technology and numerical computer models, predicting tropical weather is still wrought with uncertainty. Five-day outlooks often have a track error of hundreds of miles, and forecasting a hurricane's intensity is even more difficult.

NOAA is preparing forecasters for a new series of spacecraft with advanced imagers and more robust instruments designed to further reduce forecasting blunders.

"The next big thing on the horizon is the next generation of GOES, which is GOES R starting in 2015, and there will be another step up in what we can do with weather monitoring and hurricane analysis," said Mark DeMaria, a NOAA researcher specializing in the use of satellite observations in hurricane forecasting.

The Geostationary Operational Environmental Satellite, or GOES, system has continuously monitored weather over North America since 1975. The satellites are positioned in geostationary orbit 22,300 miles above the equator and appear to hover over a fixed position on Earth.

NOAA maintains operational satellites in two locations covering the Pacific and Atlantic regions, providing overlap over North America.

DeMaria said it's impossible for him to imagine forecasting tropical cyclones today without GOES satellites. He said the network of spacecraft has saved countless lives by facilitating more accurate track and intensity predictions.

When GOES satellites first began launching in the 1970s, hurricane track forecasts had average errors of more than 100 miles one day in advance, and nearly 400 miles three days ahead of time.

Today, the errors are about 50 miles at one day and 120 miles at three days.

"That makes a huge difference in getting people prepared," DeMaria said.

But meteorologists have not seen as much progress in predicting a storm's intensity, which can be determined by wind patterns, ocean temperatures, moisture in the atmosphere, and other variables.

According to DeMaria, there have been modest improvements in forecasting a hurricane's strength. But on average, predictions can be off by as much as 20 knots - approximately the difference between a Category 1 and Category 2 hurricane.

"It's a more difficult problem (than track)," DeMaria said. "We need to continue to chip away with it with better satellite data, using the aircraft reconnaissance data better than we do now, and developing better modeling tools than we have now."

Although upgraded satellites will not solve the forecasting conundrum - better computer models and algorithms are needed, too - they will ensure fresh data are in the hands of meteorologists, and the quality of the observations will be improved.

NOAA has ordered at least two next-generation satellites from Lockheed Martin Corp. The first of the series is scheduled for launch in late 2015.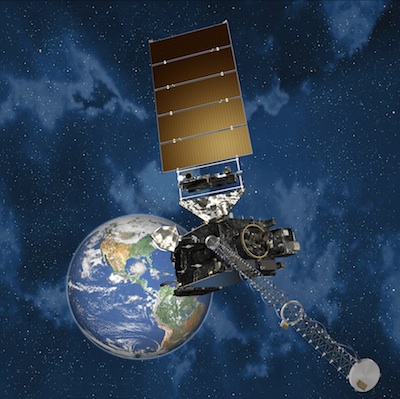 An artist's concept of GOES R. Credit: NOAA



Including two firm orders and two options, the GOES R program is projected to cost $10.9 billion.

NOAA officials say the schedule is tight to meet the 2015 launch date, and a Government Accountability Office report concluded there was less than a 50 percent chance of the program staying on schedule.

"All flight instrument critical design reviews are complete, and all flight instruments are in flight hardware fabrication, integration, or test," said Marcus Watkins, director of NASA's joint agency satellite division.

NASA oversees procurement and acquisition of NOAA's weather satellites.

The GOES R satellites will return images of Earth's full disk every 15 minutes and regional observations near the United States every 5 minutes - up from every half-hour and 15 minutes, respectively.

And the GOES R imager, built by ITT Exelis, will provide twice the spatial resolution and more than three times the number of spectral channels than the current GOES imaging camera.

"We'll be able to look at cloud structure and estimate precipitation better," DeMaria said. "We'll be able to estimate the winds around the tropical cyclone better by tracking the features in the imagery. That's essential for forecasting where the storm is going to go."

Officials decided to remove a sounding instrument from at least the next two GOES satellites due to budget concerns. But DeMaria said the new imager will replace some of the sounder's capability, such as imaging different levels of the atmosphere to determine a storm's structure.

The sounders on current GOES satellites measure atmospheric temperature and moisture profiles.

And a new lightning detector on the next series of GOES satellites will log in-cloud and cloud-to-ground strikes.

"Intensity forecasting is one of the things that has been lagging behind the ability to forecast the track. We're hoping to get some improvement in that area with GOES R, both with improved imaging and the new lightning mapper," DeMaria said.