Nuclear-powered craft not picked in latest competition
BY STEPHEN CLARK
SPACEFLIGHT NOW
Posted: August 28, 2012


NASA officials last week passed up a chance to test an advanced nuclear generator in space, likely delaying the first flight demonstration of the plutonium power source until after 2020.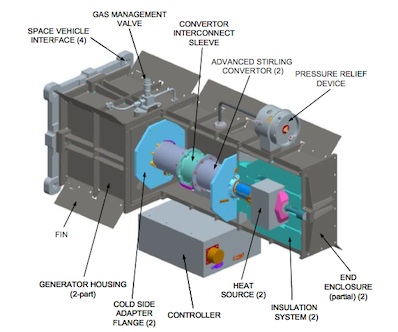 Credit: Department of Energy



The nuclear power units, called ASRGs, use less plutonium than existing generators. NASA and the U.S. Department of Energy face a shortage of plutonium-238 nuclear fuel for robotic spacecraft, causing officials to turn to more efficient power generators.

NASA managers say the plutonium shortage is a crisis for the future of planetary exploration, particularly for missions bound for comets, Jupiter, Saturn, and the other outer planets.

Large Mars rovers like Curiosity, which is powered by a traditional nuclear generator, also require plutonium.

NASA announced last Monday the selection of the InSight mission to Mars for launch in 2016, beating out probes to a comet and Saturn's moon Titan in a competition to be the agency's next Discovery-class planetary science project.

InSight will reach Mars in September 2016, dig more than 15 feet beneath the planet's surface, and listen for tremors and quakes indicative of on-going geologic activity. The solar-powered lander's design is based on the Phoenix mission, which surveyed the red planet's polar plains in 2008.

Comet Hopper and the Titan Mare Explorer, which were passed up in the competition, would have carried Advanced Stirling Radioisotope Generators to generate electricity from the decay of plutonium fuel.

John Grunsfeld, head of NASA's science directorate, said the advanced nuclear generator was not a factor in the selection of InSight.

"The success of ASRGs is still very important for planetary science, so we're going to continue to push the development of those," Grunsfeld said.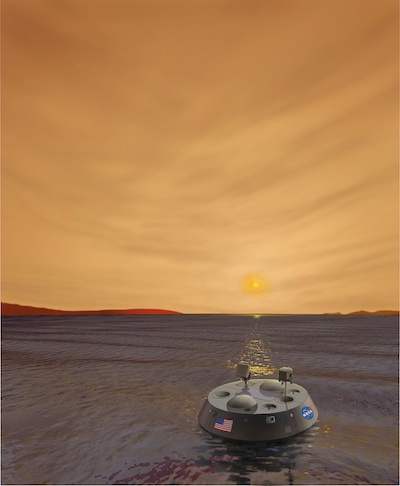 Titan Mare Explorer. Credit: JHUAPL



Officials want to complete extensive ground testing and a low-cost flight demonstration before flying ASRGs on a multi-billion dollar flagship mission.

NASA tapped the Discovery program, the agency's line of frequent, relatively inexpensive planetary probes, to test the ASRG system in space for the first time.

Based on NASA's project budget, the next opportunity for a Discovery competition will be in fiscal year 2015, according to Jim Green, director of NASA's planetary science division.

Scientists submit proposals to NASA during each Discovery solicitation, and the agency chooses a mission based on the best potential scientific return and least technical, financial and schedule risk.

Any Discovery mission selected after 2015 will not launch until the end of this decade, at the earliest.

"It is unfortunate that it wasn't selected for flight at this time, however, we anticipate that it will be also be available for the next Discovery call," Green said. "Many of those [proposals] will require radioisotope power capability, so we will continue to make ASRG power systems available for those potential proposals."

Plutonium is the best way to generate power on deep space probes because solar panels do not receive enough sunlight at such distances. But the U.S. no longer produces plutonium-238, the isotope best suited for space power, and Russia is charging higher prices for access to its stockpile.

NASA has received funding to begin studies with the Energy Department on how to restart production of plutonium-238, but any meaningful new supplies could be a decade away.

While scientists lobby to restart U.S. production of plutonium-238, federal agencies started developing a new power generator built around Stirling engines and linear alternators. The new device is called an Advanced Stirling Convertor because it transforms the decay heat of the plutonium-238 fuel into electricity.

The Stirling convertor is being developed by Sunpower Inc. of Ohio.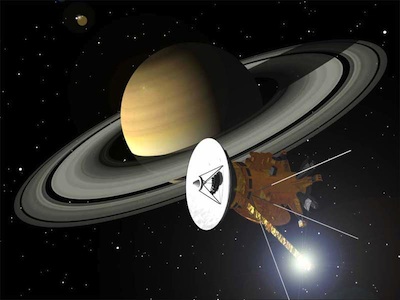 Cassini. Credit: NASA/JPL-Caltech



Unlike Radioisotope Thermoelectric Generators, which have powered satellites and probes for nearly 50 years, the ASRG has the added complexity of moving parts.

But each ASRG creates between 130 and 140 watts of electricity with 1 kilogram, or about 2.2 pounds, of plutonium-238. More than four times more plutonium would be required to generate the same power in an existing RTG, according to the Energy Department.

The Department of Energy is managing the ASRG's development, and NASA's Glenn Research Center in Ohio has conducted more than 14,000 hours of trouble-free endurance testing of a ground model, according to Lockheed Martin Corp., the prime contractor with the Energy Department for development, fabrication and testing of the ASRG.

Green said ASRG technology is also critical for human exploration and other types of demonstrations, calling the generator a "mission-enabling capability" in a conference call with reporters.