Former astronaut Alan Poindexter dies in accident
BY STEPHEN CLARK
SPACEFLIGHT NOW
Posted: July 2, 2012


Former NASA astronaut Alan Poindexter died Sunday from injuries sustained in a jet ski crash in Florida. He was 50 years old.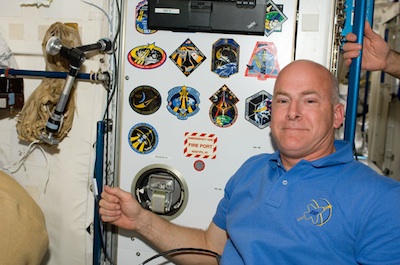 Poindexter is pictured here aboard the International Space Station in April 2010. Credit: NASA

Poindexter, a two-time space shuttle flier, was jet skiing with his sons near Pensacola Beach, Fla., when the accident occurred, according to local media reports.
"At about 1:30 p.m., Poindexter and his son were sitting still on the jet ski when Poindexter's oldest son, 26-year-old Zachary, crashed into them on a separate jet ski," the Pensacola News Journal reported, citing an official with the Florida Fish and Wildlife Conservation Commission.
According to the newspaper, Poindexter later died of his injuries after being airlifted to a nearby Baptist Hospital.
NASA issued a statement Sunday night on the agency's Facebook page.
"The NASA family was sad to learn of the passing of our former friend, and colleague Alan Poindexter who was killed today during a jet ski accident in Florida," the Facebook posting said. "Our thought and hearts are with his family."
Poindexter, known as "Dex" to friends, flew twice in space, first piloting the shuttle Atlantis on the STS-122 mission in February 2008, which delivered the European Space Agency's Columbus laboratory module to the International Space Station.
He commanded the shuttle Discovery on its penultimate spaceflight in April 2010. Poindexter led a seven-person crew on the STS-131 mission, which resupplied the space station and delivered several tons of scientific gear to the outpost inside a pressurized logistics module.
"He was a talented, courageous Navy veteran with gifts," astronaut Greg H. Johnson wrote on Twitter. "Dex was a lovable guy with a strong work ethic."
He logged nearly 28 days in space before retiring from NASA in December 2010. A captain in the Navy, Poindexter became dean of students at the Naval Postgraduate School in Monterey, Calif., following his departure from NASA.
Poindexter was born in 1961 in Pasadena, Calif., but considered Rockville, Md., to be his hometown.
After earning a bachelor of aerospace engineering degree from Georgia Institute of Technology, Poindexter was commissioned in the U.S. Navy. He flew missions over Iraq during Operation Desert Storm and Operation Southern Watch before becoming a test pilot.
According to a Navy biography, Poindexter accumulated more than 4,500 hours flying time in more than 30 types of aircraft, including 450 carrier landings.
Poindexter was selected for NASA's astronaut corps in 1998.