Antares rocket joins NASA's fleet of available launchers
BY STEPHEN CLARK
SPACEFLIGHT NOW
Posted: June 26, 2012


NASA has added the Orbital Sciences Corp. Antares rocket to its fleet of launchers for robotic research and exploration missions, the space agency announced Tuesday.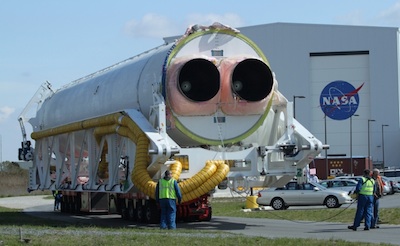 A first stage of an Antares rocked moved to its launch pad in Virginia in April for pathfinder testing. Credit: NASA/P. Black

The two-stage rocket is being developed by Orbital Sciences as a cargo launcher to serve the International Space Station, but it could double as an economical booster for NASA's scientific satellites.
With costs of proven United Launch Alliance rockets on the rise, NASA is seeking new launch options for its research missions, especially polar-orbiting Earth observation satellites, which have been hardest hit by launch woes.
Orbital Sciences proposed adding the Antares rocket to the NASA Launch Services 2 contract, an indefinite delivery, indefinite quantity agreement running through June 2020 which allows launch providers to compete for NASA missions.
NASA must certify each type of rocket before assigning payloads for launch.
The first flight of the Antares rocket is scheduled for this fall from a new launch pad at Wallops Island, Va. The Antares backlog includes 10 launches from Wallops, and Orbital is studying a launch site in California or Alaska for polar orbit missions.
The NASA fleet under the NLS 2 contract includes small-class, medium-lift and intermediate launch vehicles designed to orbit all types of satellites and deploy robotic probes into the solar system.
The NLS 2 contract was announced in 2010, when NASA selected ULA's Atlas 5 rocket, the Orbital Sciences Pegasus XL and Taurus XL launchers, SpaceX's Falcon 9 rocket and the Athena 1c and 2c vehicles from Lockheed Martin Corp. The contract's overall value could be as much as $15 billion for up to 70 missions over the next decade.
But NLS 2 contract includes an annual on-ramp provision, in which launch providers can submit proposals to add new launch vehicles to the NASA fleet.
NASA last year added ULA's Delta 2 booster to the NLS 2 contract. Components are available for up to five more Delta 2 rockets, but the vehicle's production line has been shut down. It last flew in October 2011.
In May, the space agency announced it was adding the Falcon 9 v1.1 configuration to the NLS 2 contract. The upgraded Falcon 9 rocket will use more powerful engines and feature larger propellant tanks, increasing its lift capacity.