NASA funds satellite mission to measure hurricane winds
BY STEPHEN CLARK
SPACEFLIGHT NOW
Posted: June 21, 2012


NASA's decision this week to fund a University of Michigan proposal to build a small satellite constellation, the first full mission award in the agency's low-cost Venture-class Earth science program, could help forecasters predict the intensification of tropical cyclones.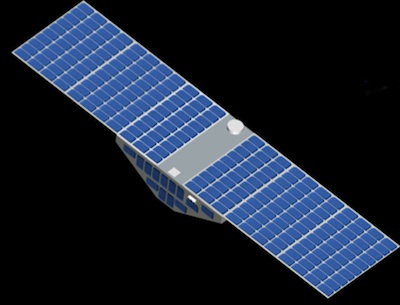 Artist's concept of a spacecraft in the CYGNSS constellation. Credit: Chris Ruf/University of Michigan

Data from the mission will help researchers study how tropical cyclones grow stronger over warm ocean waters, and meteorologists could use real-time information to help formulate hurricane forecasts.
The Cyclone Global Navigation Satellite System, or CYGNSS, will receive $151.7 million from NASA over the next five years. Eight microsatellites will launch together in 2017 on a single rocket, then deploy in low Earth orbit.
Cyclones are energized by warm waters, and the CYGNSS mission will observe the interaction between the atmosphere and the sea driving their intensification.
Chris Ruf, the mission's principal investigator from the University of Michigan, said the project's goal is to improve hurricane forecasting.
The eight CYGNSS satellites will be built by Southwest Research Institute of Texas. Surrey Satellite Technology of Colorado, the U.S. subsidiary of the British spacecraft-builder, will provide GPS receivers for the mission.
CYGNSS will use GPS signals to derive the roughness of the ocean surface, from which wind speed is retrieved, according to NASA.
The satellites will make measurements similar to the QuikSCAT satellite, which lost the use of its spinning radar scatterometer instrument in 2009. During its 10-year mission, QuikSCAT detected wind speed and direction over 90 percent of the Earth's surface every day.
QuikSCAT data measurably improved hurricane forecasting models and the increased the accuracy of intensity predictions, particularly for storms in the open ocean out of range of reconnaissance airplanes and terrestrial radars.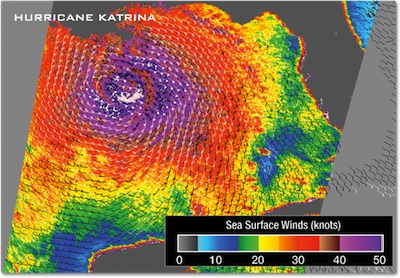 An image from QuikSCAT shows the wind speeds inside Hurricane Katrina in 2005. Credit: NOAA/NASA-JPL

Since QuikSCAT's loss, forecasters at NOAA's National Hurricane Center have struggled to find a suitable replacement. NOAA has not funded the construction of another QuikSCAT satellite.
Trials with a radar payload on India's Oceansat 2 spacecraft should finish soon, allowing its wind measurements to be included in the tools used by U.S. meteorologists.
Although it uses a different detection technique, the CYGNSS mission will likely be the next U.S. satellite project able to provide accurate data on winds inside tropical cyclones, but Ruf said scientists are still studying how similar the CYGNSS measurements will be to QuikSCAT's results.
CYGNSS is the first full mission selection in NASA's Earth Venture program. NASA officials receive proposals from the science community and select a winner during each Venture-class competition.
The Earth Venture initiative is designed to increase the flight rate in NASA's Earth science program, which operates a fleet of aging satellites and faces a crisis on future missions with rising launch and development costs.
The next opportunity for a full space mission competition in the Venture-class program is expected in 2015.