ATV evolution studies look at exploration, debris removal
BY STEPHEN CLARK
SPACEFLIGHT NOW
Posted: June 21, 2012


Astrium announced Thursday it is working on two studies to evaluate follow-on missions for technologies derived from Europe's Automated Transfer Vehicle, the International Space Station's largest cargo resupply freighter, following its retirement in 2014.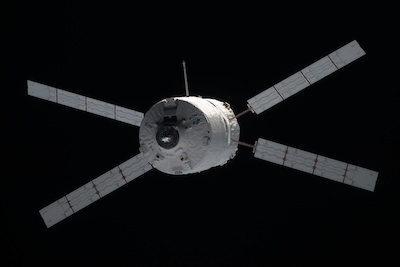 File photo of an ATV approaching the International Space Station. Credit: NASA

The European Space Agency is considering options to fulfill a debt of about $600 million owed to NASA for Europe's share of the space station's operating costs between 2017 and 2020.
Five resupply missions of the ATV will meet Europe's obligation for the station's operating costs through 2017. Three ATVs have already launched, with two more vehicles due to blast off to the space station in 2013 and 2014.
ESA is responsible for 8 percent of the International Space Station's total operating costs, and the space agency chooses to pay its share in a barter arrangement with NASA instead of exchanging cash.
Astrium's two separate studies, collectively valued at about $16 million, will run through the end of 2012.
"Astrium will use its experience in designing and manufacturing the ATV supply vehicle and the Columbus laboratory to work on evolutions of the existing technologies for future use on a variety of missions," the company said in a press release.
One evolution study will look at using the ATV's service module section to provide propulsion for NASA's Orion spacecraft, which is designed to carry astronauts to deep space destinations such as asteroids, the moon and Mars.
The combination of the ATV's service module, which is currently built by Astrium Space Transportation in Germany, with the Orion capsule would meet ESA's obligation to the space station program and give Europe a major role in future space exploration.
The other alternative to be evaluated by Astrium will define a concept to develop a versatile spacecraft to support space stations, remove old satellites and space debris from orbit, and provide resources to orbital free flyers and habitats.
ESA officials have said any evolution of the ATV will require significant upgrades and a redesign of the avionics system to ensure parts are commercially available.
ESA's next meeting of government ministers in November will choose which ATV evolution path to pursue.
European officials decided to discontinue ATV resupply missions to the International Space Station after briefly considering a returnable version of the craft to replace the current throwaway freighter, which can haul up to 15,000 pounds cargo to the complex but burns up during re-entry.