ESA's Euclid mission cleared to proceed into development
BY STEPHEN CLARK
SPACEFLIGHT NOW
Posted: June 20, 2012


European scientists on Wednesday approved the development and construction of Euclid, an $800 million space telescope designed to unravel the mysterious forces accelerating the expansion of the universe.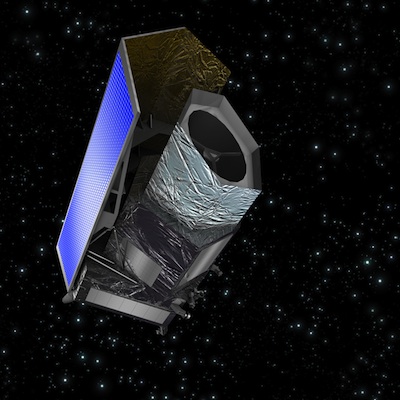 Artist's concept of the Euclid spacecraft. Credit: ESA

Selected for implementation by the European Space Agency in October 2011 following a competition with other missions, Euclid will launch in 2020 on a Soyuz rocket from the Guiana Space Center in South America.
ESA's science program committee met Wednesday to formally approve the mission's funding plan ahead of full development.
Officials sought funding commitments from ESA's member states to help pay for the mission, which ballooned above the space agency's original cost cap.
According to Rene Laureijs, ESA's Euclid project scientist, a multi-lateral agreement was signed between 11 ESA member states: France, Germany, the United Kingdom, Italy, Denmark, Portugal, Spain, the Netherlands, Norway, Romania, and Finland.
The member states - funding the mission outside of an ESA framework - will contribute up to 25 percent of Euclid's total cost. The remaining cost will come from ESA's own financial coffers.
NASA has agreed to provide infrared detectors for Euclid at a cost of about $40 million to $50 million, according to Paul Hertz, manager of NASA's astrophysics division.
"This formal adoption of the mission is a major milestone for a large scientific community, their funding agencies and also for European industry," said Alvaro Gimenez Canete, ESA's director of science and robotic exploration.
Laureijs said the UK and France will lead development of Euclid's visible-wavelength camera, while France, Italy and Germany are key to the mission's near-infrared camera and spectrometer.
ESA will next release a solicitation to industry for the spacecraft, telescope and scientific instruments.
The Euclid spacecraft and its 3.9-foot telescope will be stationed at the L2 libration point, a stable location where the gravitational effects of the sun and Earth balance.
From its home a million miles from Earth, Euclid will peer deep into the cosmos, generating a three-dimensional map of up to two billion galaxies across more than one-third of the sky with a resolution rivaling the Hubble Space Telescope, according to ESA.
Euclid's visible and near-infrared instruments will map the distribution of galaxies up to 10 billion years old, charting the rate at which the universe expanded over three-quarters of its history.
The force causing the expansion is called dark energy, and scientists know little about it. Dark energy comprises more than two-thirds of the mass and energy in the universe.
"It took a lot of hard work to get this far, but we now have a solid blueprint for a feasible space telescope which enables very accurate measurements that will bring to light the nature of dark energy," said Yannick Mellier, head of the Euclid consortium, a group of nearly 1,000 scientists and 100 institutes involved in the mission.
The universe's accelerating expansion was discovered in 1998. Euclid is designed to tell scientists how the universe is growing larger instead of contracting from the gravitational attraction of galaxy clusters.