Indian space agency foresees GSLV test flights within year
BY STEPHEN CLARK
SPACEFLIGHT NOW
Posted: May 1, 2012


India has scheduled up to four space launches in the next year, including two crucial tests of the Geosynchronous Satellite Launch Vehicle, a medium-class rocket envisioned as the cornerstone of Indian ambitions for fully independent access to space.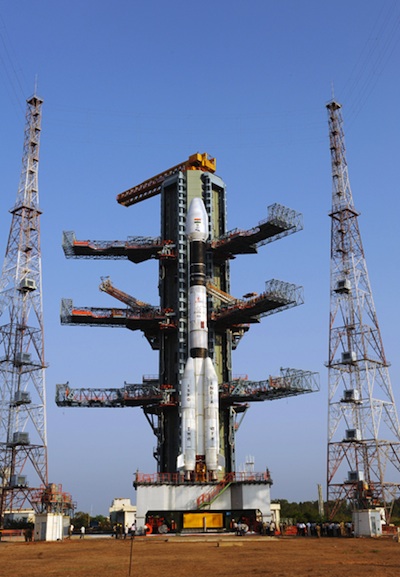 File photo of a GSLV Mk.2 rocket, which features an indigenous Indian cryogenic third stage. Credit: ISRO

The chairman of India's space agency, K. Radhakrishnan, announced the preliminary rocket manifest last week following the successful launch of a Polar Satellite Launch Vehicle with a radar surveillance satellite.
The PSLV has achieved a success record of greater than 90 percent in 21 launches, but India's larger rocket - the GSLV - has been grounded since 2010 following a string of failures.
The Indian Space Research Organization has declared four failures in the GSLV's seven launches.
Two more PSLV flights are on India's launch schedule in 2012. Astrium's commercial Spot 6 imaging satellite will launch in August, and the SARAL altimetry mission developed by France and India will launch in October to measure global sea surface height.
Another PSLV will deploy the first dedicated Indian navigation satellite in orbit in early 2013.
But ISRO's focus is also on perfecting larger launchers.
Radhakrishnan said the next GSLV mission could launch this fall with an Indian-built cryogenic third stage, which ISRO developed to replace a Russian hydrogen-fueled engine used on GSLV Mk.1 model, the rocket's early variant.
International missile and defense technology agreements stipulated Russia could only provide readymade third stages for the GSLV, forcing India to start an in-house program to design and build its own upper stage.


| | |
| --- | --- |
| | Artist's concept of the GSLV Mk.3 launch vehicle. Credit: ISRO |
The Indian upper stage failed during its first test flight in April 2010, and another GSLV launch with a Russian third stage disintegrated in a fireball less than a minute after liftoff in December 2010.

After further testing and modifications to the upper stage engine's fuel turbopump, India is almost ready to launch another GSLV with the Indian-built upper stage, a configuration known as GSLV Mk.2, according to Radhakrishnan.

"The much-awaited GSLV with an indigenous cryogenic stage is getting ready," Radhakrishnan said. "I'm happy to announce that we have done a series of ground tests, which have gone well. Some more tests have to be done before we commit the cryogenic stage for the GSLV flight. We expect this to happen by September or October 2012."

Radhakrishnan said the new GSLV upper stage will undergo vacuum and endurance testing for up to 1,000 seconds later this year. During flight, the upper stage engine fires for about six minutes, according to ISRO.

Indian officials have selected the GSAT 14 communications satellite as the passenger for the GSLV Mk.2 test flight. The 4,453-pound spacecraft carries operational C-band and Ku-band channels, along with an experimental Ka-band payload.

Radhakrishnan said ISRO will launch GSLV at least twice before placing India's second robotic lunar mission - Chandrayaan 2 - on the launcher for a flight to the moon in 2014.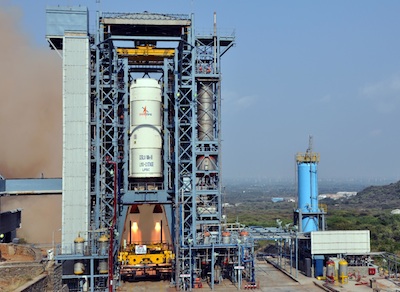 File photo of static fire testing of the GSLV Mk.3 liquid-fueled core stage's Vikas engines. Credit: ISRO

A test flight of India's third-generation GSLV, called the GSLV Mk.3, has been set for early 2013, Radhakrishnan said.
"GSLV Mk.3 has crossed several major milestones," Radhakrishnan said. "The lower stages have been qualified, and we will be undertaking an experimental flight of GSLV Mk.3 in a year from Sriharikota essentially to understand the behavior of the vehicle in the atmospheric stage of flight."
Propelled by two solid rocket boosters and a liquid-fueled two-engine core stage, the suborbital test flight will lift off from the Satish Dhawan Space Center on India's east coast.
Each booster will generate 1.1 million pounds of thrust, making it the third most powerful solid rocket motor in the world after the boosters used on the space shuttle and Ariane 5 launcher.
The S200 strap-on boosters and L110 liquid-fueled core will accelerate the GSLV Mk.3 several thousand miles from the Sriharikota launch pad.
The GSLV Mk.3 is designed to launch communications satellites weighing more than four metric tons - about 8,800 pounds - once it begins orbital flights in 2014. The launcher will be able to deliver more than 10 metric tons - 22,000 pounds - into low Earth orbit.
Orbital flights of GSLV Mk.3, which require a 25-ton cryogenic upper stage, likely will not begin until 2014.