Congress wary of fully funding commercial crew
BY STEPHEN CLARK
SPACEFLIGHT NOW
Posted: April 24, 2012


Senate and House budget bills would cut up to 40 percent from NASA's requested budget to pay for new commercial spacecraft to ferry astronauts to the International Space Station and end U.S. reliance on Russia for crew transportation.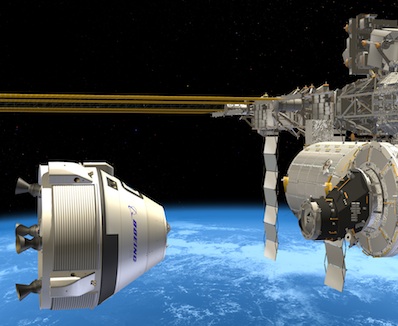 Artist's concept of Boeing's CST-100 crew capsule. Credit: Boeing

The Senate's appropriations subcommittee for NASA marked up a spending plan with $525 million allocated for commercial crew. The House's budget calls for the program to receive $500 million in fiscal year 2013, which begins Oct. 1.
The budget proposals were released April 17 and April 19, and the bills still must be passed by each body of Congress, and their differences must be resolved in a joint conference committee.
NASA expects any significant reduction from the agency's requested $830 million for commercial crew development to push back the resumption of domestic human space travel into low Earth orbit, a capability lost after the retirement of the space shuttle.
Congress last year cut NASA's budget proposal to $406 million for fiscal year 2012, which runs through Sept. 30. That is less than half of the space agency's proposal, and NASA officials blamed the budget for a predicted delay in the beginning of crewed space missions from 2016 until 2017.
Without the $830 million next year, NASA's commercial crew program will face another delay, according to top space officials.
"Any subsequent reductions from what the president has requested for commercial crew only serves to delay the amount of time that we have an American capability to get our crews to the International Space Station," NASA Administrator Charlie Bolden said in testimony before a Senate committee in March.
Phil McAlister, head of NASA's commercial spaceflight office, has repeatedly said mounting delays could cause the agency to question whether the commercial crew approach to space transportation is the right strategy.
"At some point, you have to step back and take a look at the whole equation and see if the strategy still is appropriate," McAlister said in a March interview.
McAlister said an annual budget between $300 million and $400 million would call into question the program's relevance, adding that at such a level, he would argue "it doesn't make a whole lot of sense to do this program."
NASA expects to award at least two companies between $300 million and $500 million in agreements by August to continue developing, testing and validating their vehicles. The 21-month agreements, which run through May 2014, will fund the completion of the design phases for spacecraft and rockets capable of carrying crews into orbit.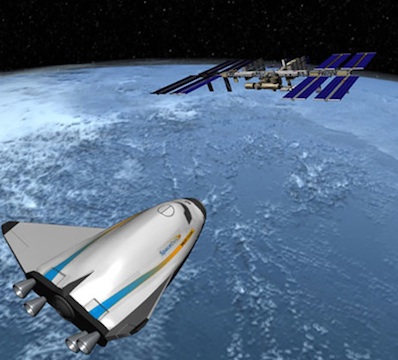 Artist's concept of Sierra Nevada's Dream Chaser space plane. Credit: Sierra Nevada Corp.

The numbers in the budget bills marked up in the House and Senate appropriations committees could necessitate awards in the lower end of the $300 million to $500 million range.
Some in Congress, including Sen. Kay Bailey Hutchison, R-Texas, have suggested paring down the number of competitors for scarce commercial crew money. Boeing Co., Sierra Nevada Corp., SpaceX and Blue Origin currently have funded agreements with NASA through July.
Hutchison also questioned NASA's $830 million commercial crew request for fiscal 2013, saying the agency was only authorized $500 million for the effort. But Bolden said the $830 million level was imperative for keeping the commercial crew program on schedule.
In a joint bipartisan Op-Ed appearing April 11 in the Austin American-Statesman, Hutchison and Sen. Bill Nelson, D-Fla., suggested NASA should only put money toward the most credible bids.
"Moving forward, NASA needs to focus its investment on only those providers that are likely to be able to provide crew transportation services by 2017," Nelson and Hutchison wrote.
Rep. Frank Wolf, R-Va., chairman of the House appropriations subcommittee for NASA, said the House budget bill "directs NASA to winnow the commercial partners and advance the schedule for moving to traditional government procurement methods."
Like the Senate budget proposal, the House bill would boost fiscal year 2013 funding for NASA's Space Launch System, the heavy-lift rocket conceived to send astronauts on expeditions beyond Earth orbit, including asteroids, Mars and other destinations.
NASA officials previously said the next step in commercial crew development, called the commercial crew integrated capability phase, would require proposals to merge rocket and spacecraft design and testing into a single bid.
The fiscal 2012 budget passed by Congress forced NASA to rethink its development and procurement strategy, and officials opted to continue using more flexible Space Act Agreements with commercial partners, despite plans to switch to more rigid contracts.
Under the Space Act Agreements, NASA gives up some control and oversight over spacecraft and rocket developers. But the unique public-private partnerships allow companies to help finance design and testing with private capital.