Budget bill provides $525 million for commercial crew
BY STEPHEN CLARK
SPACEFLIGHT NOW
Posted: April 18, 2012


WASHINGTON -- Senate appropriators released a draft NASA budget Tuesday, proposing a cut of more than $300 million from the agency's funding request for commercial space transportation, but adding money for development of the Space Launch System heavy-lift rocket and Orion capsule for human exploration of deep space.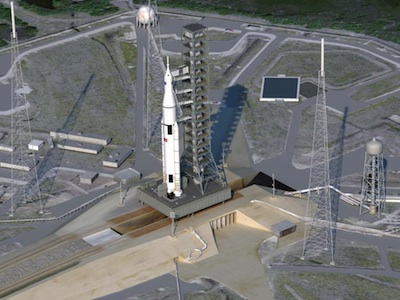 Artist's concept of the Space Launch System, a colossal rocket designed to launch astronauts on missions to asteroids, Mars and other deep space destinations. Credit: NASA

The Senate appropriations subcommittee for commerce, science and justice, chaired by Sen. Barbara Mikulski, D-Md., approved the fiscal year 2013 budget legislation Tuesday. Fiscal year 2013 begins Oct. 1.
The House is expected to produce its own NASA budget later this year.
The White House in February requested $830 million for NASA's commercial crew program, which was chartered to foster private development of rockets and spacecraft to carry astronaut crews to and from the International Space Station. With the space shuttle's retirement, NASA must purchase seats on Russian Soyuz spacecraft.
NASA's request for commercial crew in fiscal 2012 was cut in half by Congress, delaying the scheduled start of crew transportation services by one year until 2017. Officials have warned another significant reduction from next year's $830 million request would cause another delay.
In the budget mark-up released Tuesday, Senate appropriators would provide $525 million for commercial crew.
Some senators, including Kay Bailey Hutchison, R-Texas, have accused NASA of robbing the budget for the Space Launch System and Orion programs, which are designed for human exploration beyond low Earth orbit, to pay for commercial crew development.
Hutchison is the ranking member of the Senate appropriations subcommittee for commerce, science and justice.
The SLS and Orion budgets each saw slight cuts in the White House's fiscal 2013 request, which was released Feb. 13.
In testimony before Senate committees, NASA Administrator Charlie Bolden said the heavy-lift rocket and capsule were making good progress, so the space agency could afford taking some funding away from those programs, highlighting the imperative of keeping pace in the commercial crew effort.
The Senate budget proposal includes $1.2 billion for the Orion multipurpose crew vehicle and $1.5 billion for the Space Launch System. The Obama administration's budget request includes $1 billion for Orion and about $1.3 billion for the SLS program.
The Senate appropriations bill calls for restoring $100 million to NASA's Mars science programs, responding to a cut to robotic exploration of Mars in the White House's budget blueprint. The Senate budget proposal includes $461 million for unmanned Mars research.
Senators also wish to shift $1.6 billion in funding for NOAA's weather satellites to NASA, boosting the space agency's overall budget to $19.4 billion. NASA currently manages acquisition and procurement for weather satellites under a cost reimbursement agreement with NOAA.