Rocket companies hope to repurpose Saturn 5 engines
BY STEPHEN CLARK
SPACEFLIGHT NOW
Posted: April 18, 2012


WASHINGTON -- Dynetics and Pratt & Whitney Rocketdyne announced Wednesday they are teaming up to resurrect the Saturn 5 rocket's mighty F-1 engine to power NASA's planned heavy-lift launch vehicle, saying the Apollo-era engine will offer significantly more performance than solid-fueled boosters currently under development.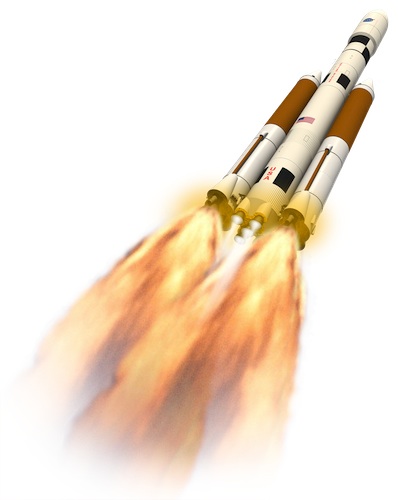 Artist's concept of the Space Launch System with boosters powered by F-1 engines. Credit: Dynetics Inc.

"The ability to come back and offer NASA a resurrection of probably one of the most venerated successful engines ever, the F-1, is very neat," said Steve Cook, director of space technologies at Dynetics Inc. "The cool factor on this is very high."
NASA plans to award $200 million to multiple companies later this year for 30 months of design and risk reduction work on advanced booster concepts for the agency's Space Launch System, a powerful heavy-lifting rocket designed to dispatch astronaut crews to deep space destinations, including asteroids, Mars, and the moon.
The 30-month performance period is expected to begin Oct. 1 and run through early 2015. The first two flights of the Space Launch System will be boosted off the launch pad by five-segment solid rocket motors built by ATK and derived from the space shuttle program.
NASA hopes a bigger booster will be ready by the third SLS flight in the early 2020s.
Dynetics of Huntsville, Ala., is leading the contractor team proposing the F-1 engine design. Pratt & Whitney Rocketdyne is the bid's propulsion partner and engine builder.
Cook, NASA's former manager of the scrapped Ares rocket program, said each of the two Dynetics boosters on an SLS mission would be propelled by a pair of kerosene-fueled F-1 engines.
"Each of those engines can get up to 1.8 million pounds of thrust," Cook said in an interview Wednesday. "This booster is a very simple, very standard booster. It's 18 feet in diameter. It uses the same attach points as the current five-segment solid rocket booster."
Pratt & Whitney is the prime contractor for the Space Launch System's core propulsion system, initially comprised of up to four hydrogen-fueled RS-25D/E engines. The cryogenic upper stage's J-2X engine, another redesigned engine from the Apollo moon program, is under development by NASA and Pratt & Whitney for SLS flights beginning in the 2020s.
The first two SLS missions, scheduled for 2017 and 2021, will be powered by an interim cryogenic upper stage, a four-engine core, and twin five-segment solid rocket boosters. The 2021 mission, planned to loop around the moon, will be the mammoth rocket's first crewed launch.
The earliest version of the Space Launch System will stand 30 stories tall and lift at least 70 metric tons, or 154,000 pounds, into low Earth orbit.
Subsequent long-duration missions to further destinations, such as asteroids or Mars, will require a more robust version of the Space Launch System using the J-2X engine and advanced boosters.
Along with the Dynetics and Pratt & Whitney team, ATK and other industrial contractors also submitted proposals for the advanced booster risk reduction awards.
"We're essentially flying out assets we have while we try to evolve to a more affordable and capable booster for the future," said Todd May, NASA's Space Launch System program manager, in an interview in February.
NASA plans a design and development contract for the advanced booster after the risk reduction phase ends in 2015.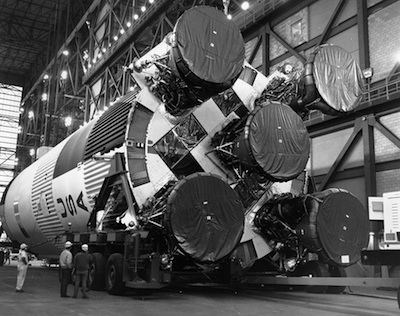 A Saturn 5 first stage with five F-1 engines inside the Vehicle Assembly Building. Credit: NASA

Cook said the F-1 engine-powered advanced booster will provide about 20 metric tons, or 44,000 pounds, more lift capacity into low Earth orbit over the heavy-lift launcher's baseline solid rocket boosters.
"We offer a domestic booster design that takes advantage of the flight-proven Apollo-Saturn F-1, still the most powerful U.S. liquid rocket engine ever flown," said Ron Ramos, Pratt & Whitney Rocketdyne's vice president for exploration and missile defense. "PWR is the only company to have returned a Saturn-era engine, the J-2X, to production. We bring unique lessons to the advanced booster cost and performance trades."
Five F-1 engines flew on the first stage of each Saturn 5 rocket's upper stage. The Saturn 5 flew 13 times, launching astronauts to the moon and lofting NASA's Skylab space station into Earth orbit.
"That makes it one of the most reliable engines ever," Cook said. "You don't want to tinker with a design that you know works and has been successful."
Cook said the F-1 engine activities planned for the next 30 months, assuming Dynetics wins an award from NASA, include full-scale systems demonstrations and some hotfire testing.
The amount of progress depends on the level of funding provided by NASA, Cook said, adding the contractor team is already refurbishing some equipment with private capital.
"The risks associated with that [engine] were retired 40 years ago," Cook said. "What that allowed us to do was to focus our modifications and our changes around manufacturability, affordability and reliability. You take that engine and incorporate the lessons learned over the last 40 years of human, commercial and [military] spaceflight in propulsion systems, we think we can bring a very affordable package to the game. Largely, the design we're bringing is very similar or the same, and we've focused on manufacturability, bringing new processes and techniques that have been proven out."
"Cost wasn't a factor in the '60s," Cook said. "Cost is a huge factor today."